On a cool morning last November, Tirso Rojas, a lifelong firefighter turned disaster-cleanup specialist, parked his Chevy Silverado pickup among a cluster of burned houses in the charred foothills surrounding Santa Rosa, California. A man in a hard hat and a Day-Glo vest sat smoking a cigarette on a stump by the skeleton of a garage with a burned Nissan truck inside. Meanwhile, five other workers cut a log with chainsaws and loaded it into a chipper.
"Saw some turkeys in that tree this morning," the guy smoking the cigarette said to Rojas, who nodded a hello.
A few of these men had come directly from Houston, where they'd spent months cleaning up after Hurricane Irma. Rojas, in charge of the crew, grabbed a length of power line lying on the ground and cast a stank-eyed glance at the men as he coiled it—they should have done this.
"What's your plan? Qual es tu plan?" he asked them, nodding to five trees near the foundation of a house. The trees, all black and needle-less, leaned over a power line. The men sat silent.
"This one first," Rojas said, tapping one tree. He then considered the others for a moment. "Then here, here, and here."
Rojas, 40, has the stout build of a lumberjack, which he happens to be. That day, he wore well-seasoned Prison Blues work pants and an air of anxiety. Last year's fires marked the biggest disaster in the Golden State since the Loma Prieta earthquake rattled the Bay Area in 1989, and the cleanup wasn't progressing as quickly as Rojas preferred. For miles in all directions lay the ruins of some 5,500 homes that the Tubbs Fire—the most destructive in state history—had cremated in October. In order to get Northern California's economy and its communities back on track, those buildings, plus the 30,000 burned trees that threatened to knock out power lines around them, needed to be cut and cleared as quickly as possible.
"I'm 100 percent OK with you doing this—100 percent," he told the other sawyers, who watched him intently. "Just make sure I'm here to watch. That wire is live."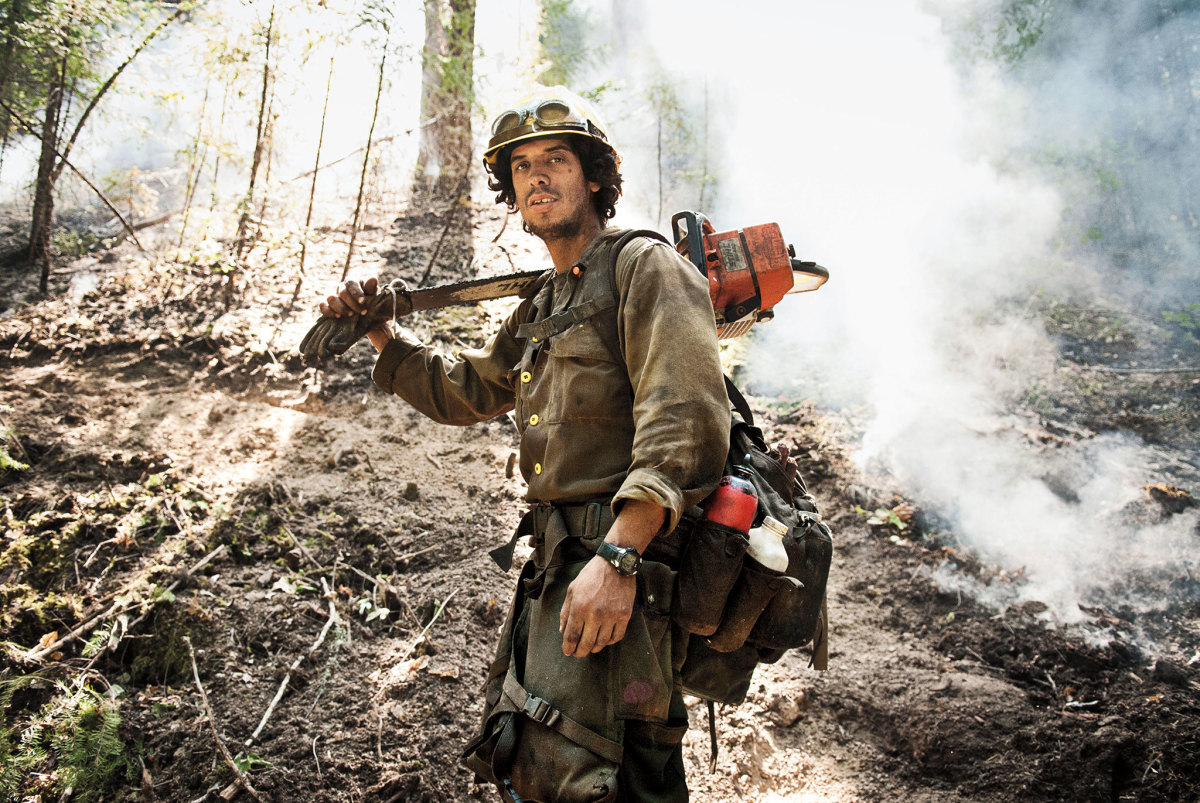 That morning, I'd met Rojas before sunrise in an empty field, lit by rented floodlights and surrounded by barns. This was the biggest of four cleanup base camps that Pacific Gas and Electric, one of the nation's largest utility companies, had established in the Santa Rosa area. Between PG&E's camps were 4,300 workers, all brought in to fell trees and repair the electrical grid. Spread out in other nearby camps were tens of thousands more workers who had come to remove debris, inspect homesites for volatile household poisons, and repair roads, sewer pipes, stoplights, and DSL wires. In other words, to fix a broken city.
When the briefing started at 6 a.m, Rojas joined a semicircle of 30 men and a few women forming around the superintendent, a former smoke jumper and a longtime friend named Brad Moschetti. Disaster relief is a contract industry, and the contracts are stacked atop one another in M.C. Escheresque layers. In this case, Moschetti, Rojas, and all these other workers were local subcontractors employed by a regional subcontractor employed by a prime contractor from Tennessee that had cut its teeth cleaning up after hurricanes in the Southeast—the other type of disaster of this scale.
The workers were dressed in Carhartts streaked with oil and hunched over steaming coffees. On the crew, only Rojas and Moschetti had been career firefighters, men who intimately knew California's woods and the disasters associated with them. The overwhelming majority were blue-collar men in their 30s and 40s. Some were locals the state insisted be hired to pump some income back into the depressed community while others were out-of-towners from Florida, Texas, and Mexico who made their living chasing catastrophes. Most of the guys here made $20 an hour plus overtime and worked 10 hours a day, six days a week, until the job was done. That would take four months.