Music fans have been waiting almost half a century to see a storied documentary that many thought might never see the light of day: Aretha Franklin's Amazing Grace. Originally directed by Sydney Pollack and completed by Alan Elliott, the film has been talked about since it was filmed in a Watts, California church in 1972 during the recording sessions for a live album of the same name. Now, 46 years after it was shot, the Amazing Grace movie was finally shown in public for the first time Monday, with initial screenings in New York City and more on the way nationwide. (It will be have limited runs in Los Angeles and New York before the end of the year in order to qualify for the 2019 Academy Awards; it's then expected to go into wider circulation early next year.)
As a document of an iconic musician's skills, the film is essential. But Amazing Grace is far more than that: Watching it is a transcendent, spine-tingling, uplifting, utterly joyous experience. As cherished as the album version has been since its release, the film is nothing short of a revelation, soaring from one chill-inducing moment to another.
Recorded over two January nights at Watts' New Temple Missionary Baptist Church, Amazing Grace marked Franklin's thrilling return to her gospel roots after she'd earned 11 consecutive No. 1 pop and R&B singles, won five Grammys and released more than 20 albums. (In a marketing plan that must have made demographic sense at the time but now seems almost unfathomably tone-deaf, Warner Bros. originally planned to pair the Amazing Grace movie with Superfly as a theatrical double-bill.)
In short order, the album version became a classic: It went double-platinum and remains one of the biggest-selling recordings in gospel music history.
Marvin Gaye, whose "Wholy Holy" Franklin covers on Amazing Grace, told her biographer, David Ritz, that the album is "Aretha's singular masterpiece … her greatest work." And it's with "Wholy Holy" that Franklin begins her performance, seated at the piano, with plushly arranged vocals from the choir backing her. It sets the reverent mood for the sessions.
That sense of shared spiritual experience, a communion of believers and their God, is what defines Amazing Grace — a project recorded not in a studio, but in a living church. Moreover, Franklin is surrounded by a community that she understands innately, says Aaron Cohen, who saw the film's raw footage about a decade ago at Elliott's invitation. Cohen is a professor at the City Colleges of Chicago, as well as the author of a 2011 book about the album Amazing Grace.
Cohen says it's essential to understand the community in which Franklin chose to record: the Watts neighborhood of Los Angeles, which, just six and a half years earlier, had exploded in riots. The unrest — which stemmed from deep-seated anger in the community over high unemployment, poor medical care, inferior housing, bad schools and tensions with police — left 34 people dead, hundreds injured and the neighborhood devastated.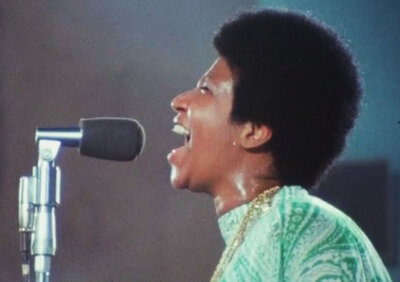 "The film shows not just Aretha performing," he says, "but also this congregation and what it was like to be in a church in Watts in the early '70s, in the post-civil rights era, in a time when the community was redirecting its energy and deciding where to go next. I believe you can feel that," he continues, "through the music, through what she's singing in 'How I Got Over'" — a song that Clara Ward's sister claimed was inspired by a specific incident of racial bullying that the family experienced, but whose lyrics were a touchstone for many black Americans.
In David Ritz's standalone biography of Franklin, 2014's Respect: The Life of Aretha Franklin, the singer's late brother Cecil strikes a similar tone. "I see [Amazing Grace] as the sacred moment in the life of black people," he told Ritz. "Think back. We had lost Martin; we had lost Malcolm; we had lost Bobby Kennedy. We were still fighting an immoral war. We had Tricky Dick in the White House. Turmoil, anger, corruption, confusion. We needed reassurance and recommitment. We needed redirection."
As dramatic as the footage is, the Amazing Grace documentary was plagued by troubles from the outset. The film of the recording sessions was made at the behest of Warner Bros. (the parent company of Franklin's label, Atlantic Records), which hired actor and director Sydney Pollack to create it. Pollack, who had recently earned his first Oscar nomination (for They Shoot Horses, Don't They?), was still green enough as a director to forget an essential need in the pre-digital era: clapper boards to mark the starting points of the visual and audio elements of the film, meaning that what one saw and what one heard were out of sync. The screw-up was so bad that the 20 hours of footage were deemed useless, and the film was jettisoned.