Still, San Juan Mountains watersheds remain under 'exceptional' drought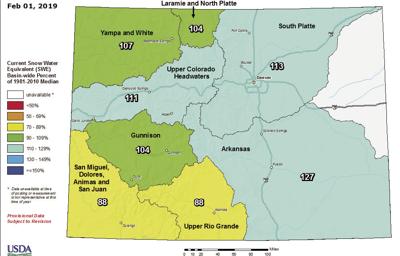 Because large snowbanks loom above many streets and because Telluride Ski Resort has reported 181 inches of snowfall so far this ski season, many locals assume the perilous drought that struck last winter has vanished. Not quite.
The eastern parts of San Miguel and Dolores counties, the southern part of Ouray County, and all of San Juan County are still experiencing "exceptional" drought, according to the United States Drought Monitor.
"We were in a very severe drought last year — a category D4 or exceptional drought, which is the most intense drought you can suffer — for quite a few months," said Jimmy Fowler, a forecaster at the National Weather Service's Grand Junction office, when the Daily Planet contacted him Friday afternoon. "It's going to take a while for southwest Colorado to get out of a D4."
The 2018 drought, Fowler added, was caused by "a high pressure system that set up on the West Coast and sent all the moisture away from Colorado, and that high pressure lasted through summer and produced a lackluster monsoon season," resulting in the prolonged parch.
Precipitation that's fallen from November through January has certainly helped Colorado as a whole: At the end of October, 13.64 percent of the state experienced D4 conditions but on Jan. 31 (Thursday) only 2.79 of the state suffered under that classification. Unfortunately, that 2.79 percent was largely centered in our area, known to drought watchers as the combined San Miguel, Dolores, Animas and San Juan rivers watershed, where mountain snowpack stood at 66 percent of normal, according to measurements taken Jan. 1.
That's still much better than 2018, when those drainages claimed a snowpack a meager 35 percent of normal size. Indeed, southwest Colorado's snowpack in 2019 has grown to 305 percent of what it was last year.
Snotel measuring stations around the state are checked on the first of each month, and February results were posted by the Natural Resources Conservation Service late Friday afternoon. The measurements presented more good news: Precipitation since New Year's Day has now increased snowpack in the San Miguel, Dolores, Animas and San Juan river basins to 89 percent of normal.
As for the remainder of winter, the National Weather Service's U.S. Seasonal Drought Outlook, which is valid from now through April 30, asserts that southwest Colorado falls under the "drought remains but improves" category.
Fowler predicted some of that improvement will occur in the next week.
"We have a pretty robust system moving through this weekend that should bring a decent amount of moisture to the area, though it will be on the warm side and some valleys could get rain instead of snow," he said. "The San Juans are looking to get 6-12 inches of (snow) accumulation, with the high peaks getting possibly 18 inches.
"Then we have another system coming through Tuesday and Wednesday that should be colder and deliver a decent amount of snow, but it's too early to predict accumulation amounts. At any rate, an active, wet pattern should remain."
Fowler characterized the system — which is moving eastward from Southern California to Colorado — as an "atmospheric river event. It essentially means that moisture is funneled from the tropics to our region."
Because abundant snow fell after the NWS in October predicted El Niño conditions this winter, many locals believed the El Niño was already happening. But that's not quite true.
"Right now, we're still considered to be in a 'neutral' pattern concerning El Niño," Fowler said. "Technically, for an El Niño to be declared we need to record not only warm sea temperatures but also an increase in thunderstorms in the eastern Pacific. Those storms haven't happened, and that's why meteorologists can't declare an El Niño right now."
Fowler did note, however, that the NWS predicts a 90 percent chance of an El Niño forming this winter and a 65 percent chance of it continuing through the spring time frame, which the NWS defines as the beginning of March through the end of May.
"We hope the moisture keeps on coming so we can make a dent in this drought," Fowler concluded.