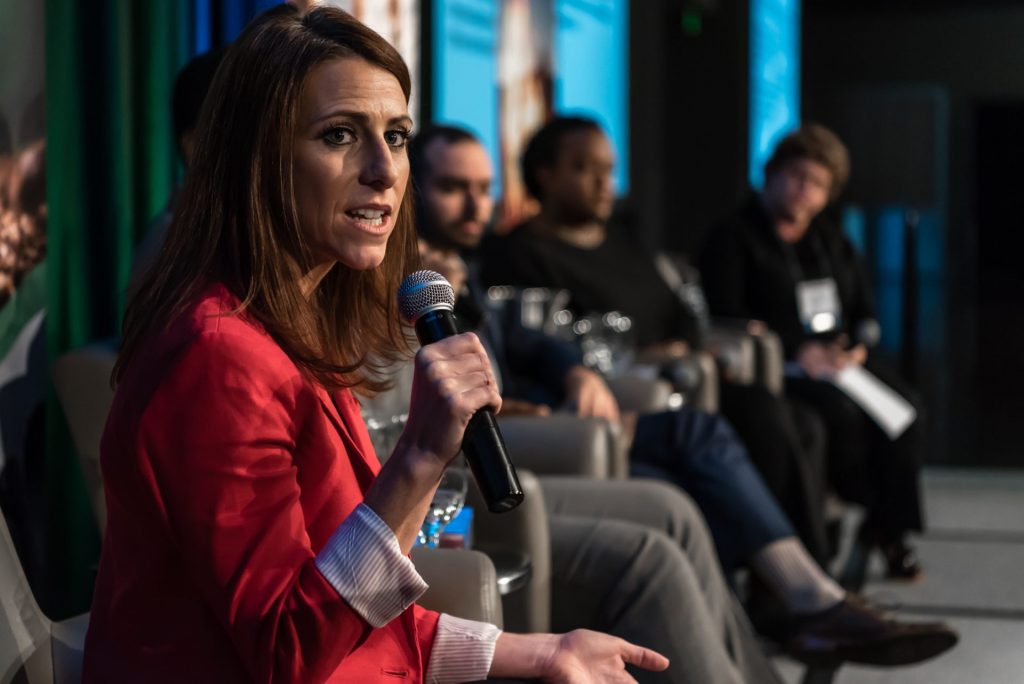 Mandy Gunasekara, who founded a nonprofit to tout the Trump administration's environmental gains, spoke to environmental journalists in Fort Collins, Colorado, on October 11. Credit: SEJ
As a writer who has covered climate change for many years, I'm accustomed to hearing a lot of misinformation about the science. Still, I rarely hear something as brazenly false as the claim made by Republican climate strategist Mandy Gunasekara at a luncheon plenary on October 11. Speaking to hundreds of reporters attending the Society of Environmental Journalists annual conference, Gunasekara said Republicans have an environmental "success story" to tell about reducing greenhouse gas emissions.
Wait, whaaaaat? While US emissions declined slightly during Trump's first year in office, they spiked in 2018, according to independent research.
Welcome to the Trump world of "alternative facts," where global warming is not a problem. Because up is down.
The misinformation. Gunasekara should know better. She served as Principal Deputy Assistant Administrator for the EPA's Office of Air and Radiation in the Trump administration and refers to herself as the "chief architect" of the strategy to withdraw from the Paris Climate Accord. She now runs the Mississippi-based "dark money" Energy 45 Fund, a nonprofit "dedicated to informing the public about the environmental and economic gains made under the Trump administration." Or misinforming the public, in the case of her remarks at the luncheon, where she unabashedly and repeatedly claimed that US emissions are dropping, and credited Trump policies such as the Affordable Clean Energy Rule (which replaced the Obama administration's Clean Power Plan) with the progress.
"I understand what you're putting out there, but that is simply not true," countered Heather McTeer Toney, the national field director of Moms Clean Air Force and a former EPA regional administrator, who was also a panelist at the plenary. "It's information like that that gets put into the sphere of voters all over this country, and they believe rhetoric." Toney challenged Gunasekara to provide "any scientific information" that shows US emissions are now dropping.
"Nothing I said was rhetoric or misinformation," Gunasekara insisted. "I can send you the report from IEA [the International Energy Agency] and from EIA [the US Energy Information Administration]. Those are nonpartisan, nonpolitical entities that just monitor what's going on in the world."
Later in the panel discussion, when Toney and Gunasekara again disagreed on the Trump track record, Toney pointed to the crowd and said, "I'm going to assume that these are journalists, so they can go and do the research and find out for themselves."
That's exactly what I did.