Harry and Libby Frishman
FALL ON ICE, CLIMBING UNROPED
---
FALL ON ICE, CLIMBING UNROPED
Wyoming, Tetons
On January 18, 1981, Harry Frishman (38) and Mark Whitten signed out at the Moose Visitor Center for a climb of the Black Ice Gully on the Middle Teton. They hiked to the Lower Saddle and spent the night inside the Exum Guide's hut.
On January 19, they decided to climb the Northwest Couloir route on the Middle Teton. This route is described in Leigh Ortenburger's A Climber's Guide to the Teton Range as "a difficult high-angle snow and ice climb." It is rated at Grade II, F6. Both Frishman and Whitten had extensive mountaineering experience. Frishman worked as a guide for the Exum Mountain Guide Service. That morning they left the Lower Saddle and began ascending the Northwest Couloir. They decided to climb unroped, although they carried a rope with them. They also had crampons and ice-climbing tools but no hard hats.
Around 11:15 a.m., Whitten successfully reached the top of the couloir, with Frishman
close behind. A few feet from the top, Frishman slipped. He was unable to self-arrest on the steep ice and fell approximately 2,000 feet to his death. Whitten was unable to reach Frishman, so he ran out to the Moose Visitor Center for help. (Source: Craig Patterson, Ranger, Grand Teton National Park)
Analysis
At 3:08 p.m. on January 19, Whitten arrived at Moose Visitor Center to report a climbing accident on the Middle Teton. Rangers Dabney and Patterson interviewed Whitten and then prepared for a rescue.
At 4:00 p.m. Dabney and Patterson left Beaver Creek in a Bell Jet Ranger helicopter piloted by Roger Kjerstad. They located Frishman's body from the air and landed nearby. The body was at the 10,700-foot level on the snowfield northwest of the Middle Teton. A line of bloodspots and scuffmarks in the snow indicated the path of the body as it descended the righthand (south) fork of the Northwest Couloir and came to its present position. There were no life signs. Frishman was wearing a sit harness. His Lowe Hummingbird Hammer and Chouinard Alpine Hammer were in good condition. The Hummingbird hammer was attached by a sling to his sit harness; the Alpine hammer was attached to a sling around his neck and shoulder. One Chouinard crampon was loose but attached to his right ankle by its strap; the other crampon was missing. The tines on the right crampon were all in good condition. There were no obvious injuries besides the massive trauma to his head.
At 3:10 p.m. on January 19, Patterson interviewed Whitten at the Moose Visitor Center.
Whitten stated in essence that he and Frishman had bivouacked at the Exum Guide's hut on the lower saddle the previous night and began climbing the Northwest Couloir of the Middle Teton in the morning. They were climbing unroped with crampons and ice tools. At 11:15 a.m. Whitten reached the top of the couloir, with Frishman close behind. Whitten began taking pictures of Frishman ascending the couloir below him. When Frishman was only a "few" feet away, he slipped, possibly because a piece of brittle ice broke away around his crampon. Frishman slid and tried to self-arrest, but the ice was too hard and steep. Frishman flipped over backwards and slid out of sight down the couloir, banging his head on some rocks.
Whitten downclimbed several gullies, following a trail of hair and blood. He recovered a crampon and a glove. He got to within about "300 feet above" Frishman but was blocked from further descent by cliffs. He could see Frishman, and he "hollered," but saw no movement and heard no response.
Whitten climbed back up and descended the north ridge, reaching the Exum hut at approximately 1:00 p.m. He then ran out and drove to the Moose Visitor Center. (Source: Craig Patterson, Ranger, Grand Teton National Park)
Harry's surfboard residing at Rancho Desperado
~~~
The Big Empty Is Anything But
PHOTOGRAPHER JACKSON FRISHMAN IS CONNECTED TO THE GIANTS OF AMERICAN MOUNTAINEERING. HE ALSO UNDERSTANDS THE PAIN AND EUPHORIA OF THE WEST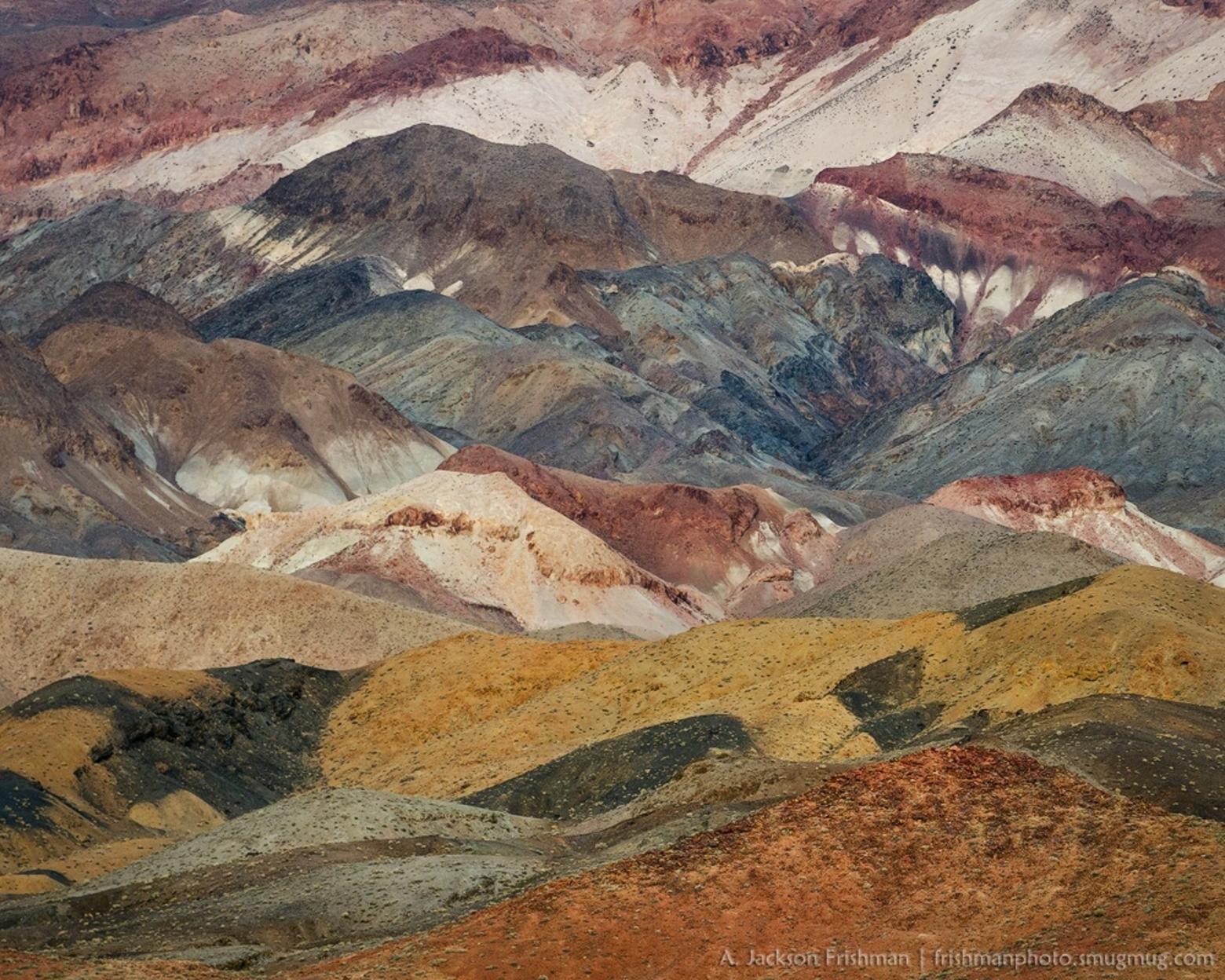 Badlands, western Nevada. Observes Frishman, "This is straight-up BLM land with no protected status whatsoever." Photo by Jackson Frishman
~~
EDITOR'S NOTE:
Meet
Jackson Frishman
. He's a young man you ought to know, and in the months ahead you will come to understand how he thinks by how he interprets the landscape around him as a photographer.  His roots run strong through the Jackson Hole climbing community where his last name is connected to lore. With his column, "Rambling the Big Empty," he will be sharing visual dispatches from remote corners of the West. The purpose: to continually remind us that all landscapes are interconnected and none exist as total islands. To appreciate the Greater Yellowstone Ecosystem, Jackson will keep asking us to view the Big Empty not as a void but the center of a lot of things worth saving. Enjoy the interview below. We know you will find it fascinating.  —Todd Wilkinson, Editor
MOUNTAIN JOURNAL: Your first name is "Jackson"? How did you come by your name and what does it mean to you?
JACKSON FRISHMAN: I spent my formative years in Jackson Hole (Wilson, actually), so people naturally assume my name is a tribute to the place. But in fact, I'm A. Jackson Frishman the Third, named after my uncle and my grandfather. Perhaps there was some destiny at work, though: we moved to Wilson from Santa Fe when I was about a year old. My father, Harry Frishman, guided in the Tetons and accompanied Yvon Chouinard, Kim Schmitz and Rick Ridgeway on their ill-fated Minya Konka expedition in 1980, which ended with an avalanche fatality.
Harry himself was killed the following winter on the Middle Teton. So my name brings to mind a family history of outdoorsmanship—my maternal grandfather Kenneth Adam was also an early Sierra climber, complete with a Yosemite first ascent (the Royal Arches), and my mother Libby was an Outward Bound guide for many years. But my name also evokes a lot of early memories of walking in lodgepole forests, playing by the Snake, cold winters, being a child who took things like bison and geysers completely for granted, and generally growing up with wilderness and mountains as a major part of my life.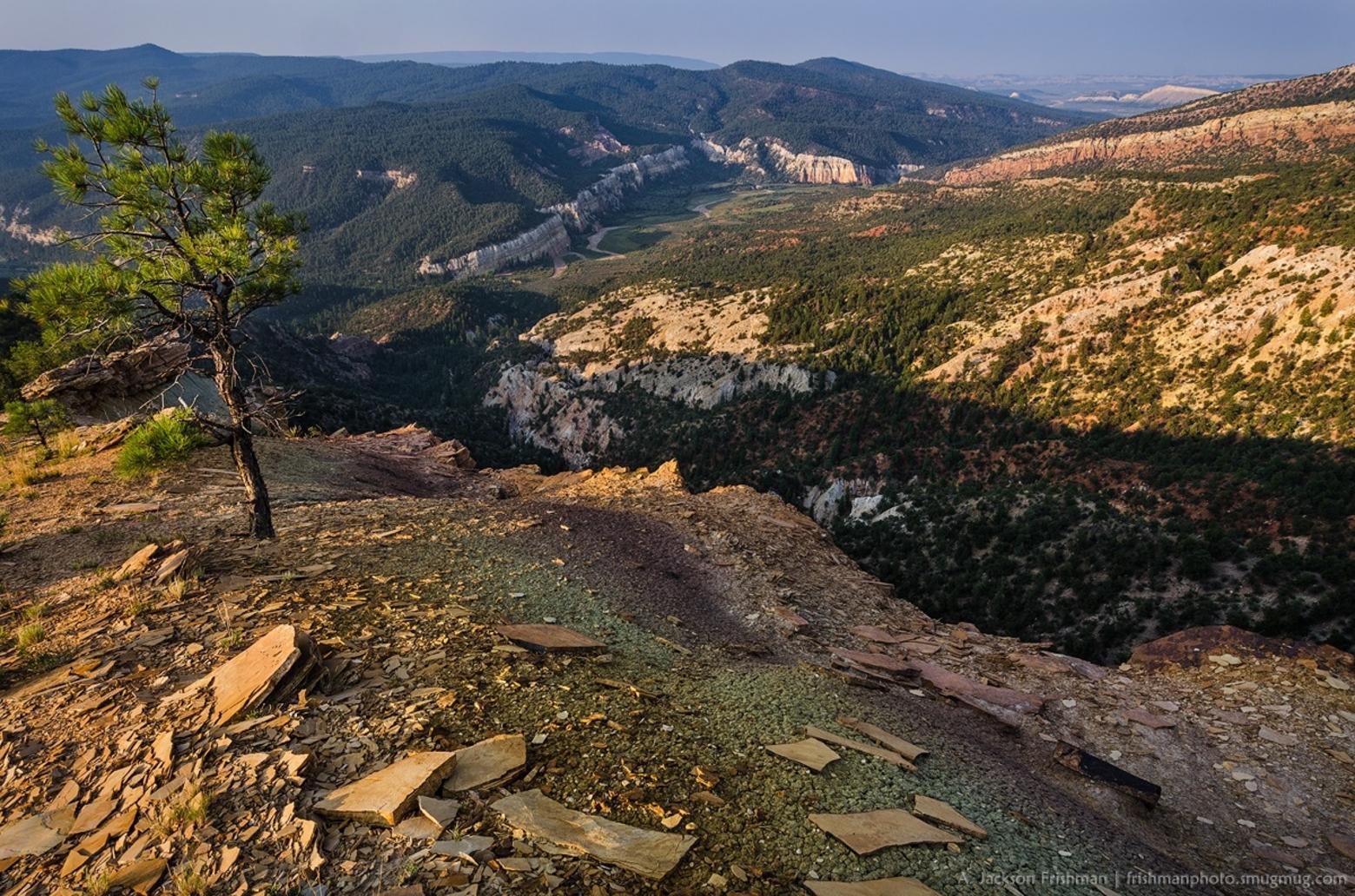 Chaka River Canyon Wilderness, New Mexico. Photo by Jackson Frishman
MOJO: What has your Mom shared with you about that fateful day involving your Dad, Harry in terms of details?  It was a shocking event in the history of Jackson Hole mountaineering. How have you tried to make sense of it?
FRISHMAN: I was barely three years old, so my memories of that time are few and vague. Of course I wish I'd gotten to know my father better, I hear so many stories about him to this day. It's interesting to speculate how my life would be different if he'd lived, but I also think a lot about what I might have missed out on after my life shifted to a different script.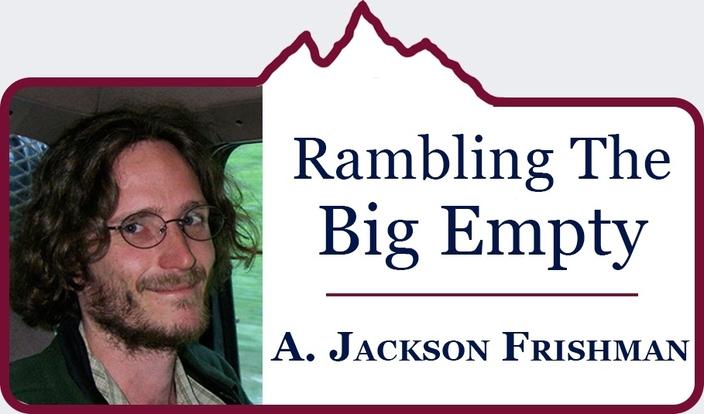 I've definitely grown up deeply aware that no single experience is worth losing all your future experiences, particularly when those future experiences also belong to other people like my wife and child. Outdoor pursuits always involve some tolerance for risk, of course— I spend lots of time rockhopping alone in remote deserts, an activity no one would call perfectly safe. But for me, pushing myself in the backcountry really means learning, understanding landscapes more deeply and broadly, noticing places no one else notices, and finding ways to evoke and share those experiences with others.
MOJO
: You had another influential male figure in your life, this one an outdoor sporting writer of the highest order. He is a favorite of ours. His books on falconry and guns are legendary and his memoir,
Querencia
, is a classic. In fact, we encourage MoJo readers to
follow his work
.
FRISHMAN: My stepfather, the nature writer Stephen Bodio who was based in Bozeman for years, taught me to see beauty in less obviously spectacular landscapes, to look beyond superlatives like highest and deepest and steepest, and focus instead on a place's ecology, seasonal rhythms, historical connections. Over the years, I've gravitated towards contemplative wilderness activities: backpacking, rafting, natural history and of course, photography.
And a little more history added
photo & revisionist history from the old days ~ Matt Wells
JR, those present in the photo taken at the Climax
High Altitude Observatory
( The Third Pole ) mid 70's –
Bernie Arndt – Billy Roos, orange bb cap, Paul Sibley, lurking, below and between Sib and Franny Butt is Burt Redmayne, between Franny and Hogini is, Chris Burns.
You may have mistaken him for Jeff Lowe. Below D Hogan you see, Libby and Harry Frishman, tribal chief and Queen from Wilson Wyo. below DH and beside Harry is Jean Hornbrook, the ayatollah's old girlfriend. I stand in Raybans, with scalp foliage, between Andy Wilson and Captain Redmayne. Harry holds Libby's ever present dog, Murphy. Just outside the circle of trust is Komander Krolak. This was taken at a time when the snow was deep and our lives less complicated.
Do what you will with the photo but do not use it with reference to (insert outdoor school of choice), we were constantly doing battle with the organization. We were employed by them but garnered little support from the office,
~~~
Another story or two from Jimbo Buickerood
Hi Jerry,
Somewhere I have the glossy original of this photo, much finer than this paper version tacked above my desk that I see daily.  The photo is a great encapsulation of Harry's spirit as he holds out his "Lhasa" hitchhiking sign to a passing military truck during their Minya Konka trip, the journey on which we lost the fine Natl Geo photographer and Aspen-area resident Jonathan Wright.  Note Harry's mischievous smile that was only visible due to this being one of those gaps in his adult life that Harry was without a full beard.  Note that he died the day before Reagan's inauguration, Harry evidently wasn't interested in living with that clown running the show.  Still miss him dearly my pal, Harry Dean Frishman.  BTW, his grave is in the Wilson cemetery, just up the hill from the Stagecoach Bar with it's legion of tales – it's somewhat overgrown, but looks up the hill towards Teton Pass where Harry skied a time or two.
Oh, and a bit more for the history buff you are.  I did have it tucked away for many years until I gave it to Randy Udall's daughter Tarn and her husband Alex who is also very fond the expression – it was my wedding present to them. The t-shirt is a drawing/profile of Chief Washakie with a "Goddamn a Potato" in text  below.  Harry loved the Chief's response to the US Government agent who told them that they should basically ditch their ponies and start farming – yeah, right!!  We had always joked, including Harry and Libby, that Goddman a Potato should be the enscription on his tombstone, and Libby held true to scheme as you can see.
jimbo