A century on, what can we learn from how US community dealt with viral outbreak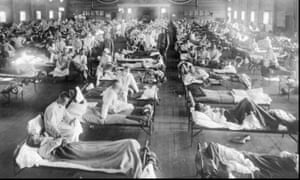 In late 1918 the world's greatest killer – Spanish flu – roared towards Gunnison, a town in Colorado.
The pandemic was infecting hundreds of millions of people in Europe, Africa, Asia and across the United States, overwhelming hospitals and morgues in Boston and Philadelphia before sweeping west, devastating cities, villages and hamlets from Alaska to Texas.
Gunnison, a farming and mining town of about 1,300 people, had special reason to fear. Two railroads connected it to Denver and other population centers, many badly hit. "The flu is after us" the Gunnison News-Champion warned on 10 October. "It is circulating in almost every village and community around us."
~~~
America faces an epic choice…
… this year, and the results will define the country for a generation. These are perilous times. Over the last three years, much of what the Guardian holds dear has been threatened – democracy, civility, truth. This US administration is establishing new norms of behaviour. Anger and cruelty disfigure public discourse and lying is commonplace. Truth is being chased away. But with your help we can continue to put it center stage.
Rampant disinformation, partisan news sources and social media's tsunami of fake news is no basis on which to inform the American public in 2020. The need for a robust, independent press has never been greater, and with your support we can continue to provide fact-based reporting that offers public scrutiny and oversight. Our journalism is free and open for all, but it's made possible thanks to the support we receive from readers like you across America in all 50 states.
On the occasion of its 100th birthday in 1921 the editor of the Guardian said, "Perhaps the chief virtue of a newspaper is its independence. It should have a soul of its own." That is more true than ever. Freed from the influence of an owner or shareholders, the Guardian's editorial independence is our unique driving force and guiding principle.