The musician was inspired by married writers George Johnston and Charmian Clift when he visited the Greek island of Hydra in 1960. But their golden age came at a price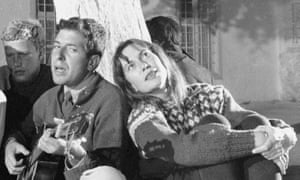 I've been noticing of late how often the woman you see in the photograph, with her head on Leonard Cohen's shoulder is captioned as "Marianne". In fact, this beauty is of a different and wilder nature. Her name is Charmian Clift, and she was one half of the tragic couple, cited by Cohen as his inspiration and often dubbed "the Ted and Sylvia of Australia". It was Clift's memoir Peel Me a Lotus, that first set me on the path to the Greek island of Hydra and to writing a novel set among the artists' colony of which she and her husband, George Johnston, were the undisputed king and queen.
It is 60 years this month since a 25-year-old Cohen – pre-songwriting and with one collection of poetry under his belt – set foot there, hoping to finish blackening the pages of his first novel. He had left Montreal on his first trip outside North America with a Canadian Arts Council Grant of $2,000, and had been attempting to complete three pages a day at a boarding house in Hampstead.
April 1960 was unusually cold and rainy, and on meeting Barbara Rothschild at a party, he learned that she was to be married to the Greek artist Nikos Ghika, the owner of a 40-room mansion on the sunny Aegean island of Hydra where artists and writers sometimes stayed, among them Lawrence Durrell, Henry Miller, Cyril Connolly and Patrick Leigh Fermor.
Cohen set off right away. Unfortunately, the advice to drop Rothchild's name fell on the hostile ears of a housekeeper who, with a Mrs Danvers's style attachment to the first Mrs Ghika, turned him away, with the words: "We don't need any more Jews here." Cohen claimed he put a curse on the place and the house burned to the ground in spectacular Manderley style the following year.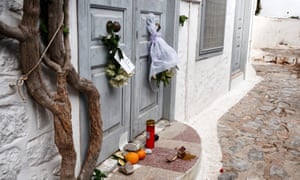 Cohen was scooped up by Clift and Johnston who invited him to stay and to work on their terrace. The Johnstons were doing exactly what Cohen hoped to do, living by their writing. In their decade in Greece, between them, they published 14 books. As Cohen later said: "They drank more than other people, they wrote more, they got sick more, they got well more, they cursed more, they blessed more, and they helped a great deal more. They were an inspiration." When he first played Sydney in 1980, by which time the couple had been dead for over a decade, he dedicated the show "To George Johnston and Charmian Clift who taught me how to write," and opened with the Hydra-inspired song "Bird on a Wire".