Group of senators tries to sneak dictatorship-era military agents on to bill to release prisoners to slow coronavirus spread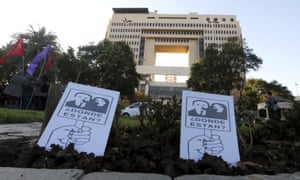 Former Chilean military agents convicted of serious human rights violations under the dictatorship of Augusto Pinochet could be freed by a controversial new ruling that seeks to halt the spread of the coronavirus among the country's prison population.
An urgent bill proposed by the ministry of justice would release some 1,300 low-risk prisoners from overcrowded prisons to serve out their sentences securely under house arrest.
The measure would apply to people convicted of lesser crimes who are elderly, pregnant, have children younger than two years of age, or are terminally ill – as long as they have already served at least half of their sentences.
But 14 government senators have argued that should also apply to inmates at the infamous Punta Peuco prison – a comfortable facility housing about 70 inmates convicted of dictatorship-era human rights violations.
"Faced by a global pandemic that is costing thousands of lives, our government is making an unethical and opportunistic attempt to free convicted human rights criminals," said Lorena Pizarro, the spokeswoman for the Association for the Families of Disappeared Detainees.