In early April, writer Jen Miller urged New York Times readers to start a coronavirus diary.
"Who knows," she wrote, "maybe one day your diary will provide a valuable window into this period."
During a different pandemic, one 17th-century British naval administrator named Samuel Pepys did just that. He fastidiously kept a diary from 1660 to 1669 – a period of time that included a severe outbreak of the bubonic plague in London. Epidemics have always haunted humans, but rarely do we get such a detailed glimpse into one person's life during a crisis from so long ago.
There were no Zoom meetings, drive-through testing or ventilators in 17th-century London. But Pepys' diary reveals that there were some striking resemblances in how people responded to the pandemic.
A creeping sense of crisis
For Pepys and the inhabitants of London in 1665, there was no way of knowing whether an outbreak of the plague that occurred in the parish of St. Giles, a poor area outside the city walls, in late 1664 and early 1665 would become an epidemic.
The plague first entered Pepys' consciousness enough to warrant a diary entry on April 30, 1665: "Great fears of the Sickenesse here in the City," he wrote, "it being said that two or three houses are already shut up. God preserve us all."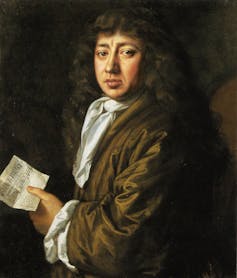 Pepys continued to live his life normally until the beginning of June, when, for the first time, he saw houses "shut up" – the term his contemporaries used for quarantine – with his own eyes, "marked with a red cross upon the doors, and 'Lord have mercy upon us' writ there." After this, Pepys became increasingly troubled by the outbreak.
He soon observed corpses being taken to their burial in the streets, and a number of his acquaintances died, including his own physician.
By mid-August, he had drawn up his will, writing, "that I shall be in much better state of soul, I hope, if it should please the Lord to call me away this sickly time." Later that month, he wrote of deserted streets; the pedestrians he encountered were "walking like people that had taken leave of the world."
Tracking mortality counts
In London, the Company of Parish Clerks printed "bills of mortality," the weekly tallies of burials.
Because these lists noted London's burials – not deaths – they undoubtedly undercounted the dead. Just as we follow these numbers closely today, Pepys documented the growing number of plague victims in his diary.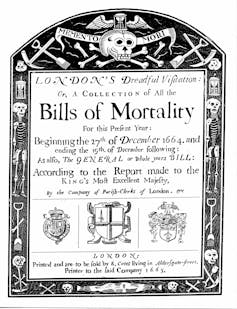 At the end of August, he cited the bill of mortality as having recorded 6,102 victims of the plague, but feared "that the true number of the dead this week is near 10,000," mostly because the victims among the urban poor weren't counted. A week later, he noted the official number of 6,978 in one week, "a most dreadfull Number."
By mid-September, all attempts to control the plague were failing. Quarantines were not being enforced, and people gathered in places like the Royal Exchange. Social distancing, in short, was not happening.
He was equally alarmed by people attending funerals in spite of official orders. Although plague victims were supposed to be interred at night, this system broke down as well, and Pepys griped that burials were taking place "in broad daylight."