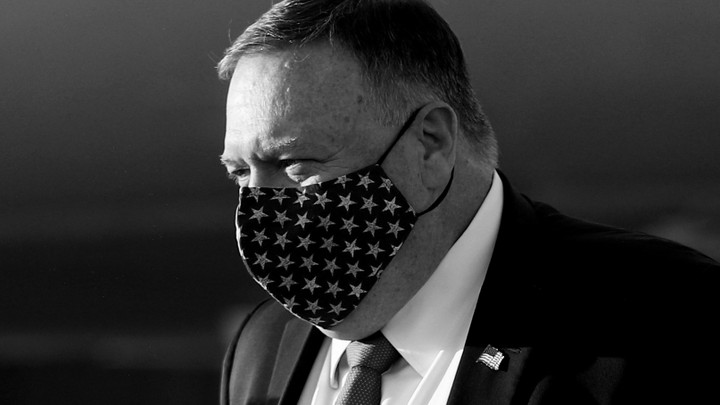 Secretary of State Mike Pompeo gave one of the most surreal speeches of the Donald Trump presidency at the Richard Nixon Presidential Library and Museum in Yorba Linda, California, on Thursday. In his speech, titled "Communist China and the Free World's Future," he declared the failure of 50 years of engagement with China and called for free societies to stand up to Beijing.
I am sympathetic to the argument. I wrote a book in 2017 about how Western hopes that China would converge with the liberal international order have failed. I haveargued for almost two years that when Trump leaves office, the United States should put the free world at the center of its foreign policy.
Unfortunately, Pompeo, like his targets in Beijing, is engaged in doublespeak whereby he offers win-win outcomes, but his words are at odds with his actions. He says the U.S. will organize the free world, while alienating and undermining the free world; he extols democracy, while aiding and abetting its destruction at home; and he praises the Chinese people, while generalizing about the ill intent of Chinese students who want to come to America.
Pompeo is also ultra-loyal to a president who cares not one whit for democracy, dissidents, freedom, or transparency overseas. Trump's long track record on this is well documented, and it has defined his personal approach to China.
In his book, the former national security adviser John Bolton wrote that on two separate occasions, Trump told Xi that he "should go ahead with building the [concentration] camps in Xijiang, which Trump thought was exactly the right thing to do." Pompeo said nothing about these revelations, although he called Bolton a traitor.
And in January and February of this year, Trump infamously praised Xi's response to the COVID-19 pandemic, even though the World Health Organization was privatelyalarmed by Beijing's actions and its lack of transparency (it praised China publicly in the hopes of coaxing it into cooperation). The Trump administration would have known this and could have built a coalition to increase pressure on China, but instead it ignored the behavior.
For three and a half years, senior members of the administration have tried to downplay Trump's words as if they don't make policy. But they do, especially if consistently expressed. His serial dismissal of the values of the free world has a real impact. Pompeo has some nerve to now claim that what is upside down is right side up.