Book by president's former lawyer will be released in September after justice department gag order to stop publication was dropped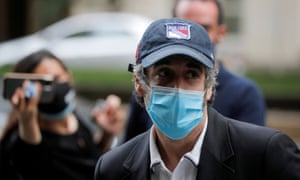 A teaser for Michael Cohen's book about his time as Donald Trump's fixer and his fall from grace was released on Thursday, after the US justice department had issued a gag order to stop the book's publication that was later dropped.
The book, entitled Disloyal: The True Story of the Former Personal Attorney to President Donald J Trump, is slated to be released some time in September, ahead of the presidential election in November.
The book's foreword gives a vivid glimpse from Cohen of what will be another bombshell portrayal of what life is like close to Trump, with Cohen flagging that he got himself involved in all kinds of "sins and crimes".
He likens his former client to a mob boss who "wouldn't mind if I was dead".
"From golden showers in a sex club in [Las] Vegas, to tax fraud, to deals with corrupt officials from the former Soviet Union, to catch and kill conspiracies to silence Trump's clandestine lovers, I wasn't just a witness to the president's rise – I was an active and eager participant," Cohen writes.
Cohen ginned up pre-sales and tweeted about it on Thursday.
Cohen, 53, mentions writing in his federal prison cell in upstate New York in his green inmate uniform.