By Robert Nott
Aug 27, 2020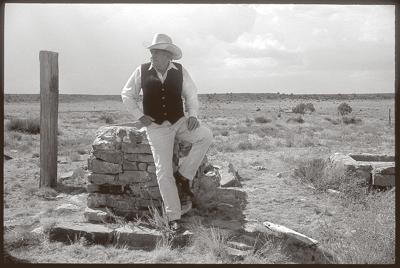 Max Evans survived the D-Day invasion, countless barroom brawls, disappointing dust-ups with Hollywood — and, most important, the changing of the American West in the years following World War II.
On Wednesday, the former cowboy, soldier, artist and author died of natural causes in hospice care at the VA Medical Center in Albuquerque, just three days shy of his 96th birthday.
His wife, Pat Evans, said her husband rode off to the "great mystery in the sky," which is how Max Evans liked to describe God, heavenly guardians, fate, curiosity and just about anything else he couldn't quite define in life.
"He's on a whole new adventure now," Pat Evans said Thursday morning.
Max Evans was one of the last great American literary figures of the latter part of the 20th century. His works often addressed the challenges faced by men and women coming to grips with the postwar transition of the American West.
He broke into literary fame with his 1960 novel The Rounders, about two contemporary cowboys who just want to live, love and avoid trouble, but whose simple dreams are foiled time and again by a rambunctious, impossible-to-tame horse.
The horse, like Evans himself, survives efforts to abandon and kill it and proves to the two hapless cowboys that the spirit of the Old West is pretty hard to extinguish. Director-writer Burt Kennedy made a film version of the novel in the mid-1960s, with actors Glenn Ford and Henry Fonda as the protagonists. The movie was a sleeper hit for MGM.
Evans also is known for his 1962 novel The Hi Lo Country, a tale of two New Mexico cowboys returning home from combat service in World War II. They are thrust into another battle to save the West they once knew as progress — in the form of larger corporate outfits and trucks — envelopes the land.
Like the protagonists of that book, Evans came home from World War II to a changed New Mexico ranching landscape. The native of Ropes, Texas, who moved to New Mexico to start punching cows as a young teen, found himself edged out of the ranching business by the end of the 1940s.
Among other professions, Evans worked as a miner, smuggled gold and bat guano and dealt with enterprises involving people from the wrong side of the tracks — and the law. He often joked that he was a con man, and his life was one of bars, bunkhouses, typewriters and mishaps, often involving fights he continually lost and women perpetually intent of doing harm to him.
Living high and fast was part of Evans' creed. In his 2004 autobiography, Ol' Max Evans — The First Thousand Years, written with Slim Randles, Evans said he once figured he and a pal spent $100,000 on alcohol over the course of five years.
But he never let liquor get in the way of his work, and he was a worker, turning to writing full-time in the late 1950s after a bid to be a visual artist. Evans himself was not so much a larger-than-life character than a life-like character who liked to see how far he could push the fun to be had every day.
His sendoff catch phrase was always: "Have fun!"
Friend and Western fiction writer Johnny D. Boggs said, "Evans showed publishers and readers that the American West didn't end by 1900. He told often-autobiographical fiction and nonfiction set during the Great Depression, World War II and beyond."
And while he's best known for contemporary cowboy tales, The Rounders and The Hi Lo Country, he also populated his West with an assortment of characters: artists and soldiers, mystics and misfits, widow-making broncs, starving coyotes and super bulls, madams and miners, drunks and crooks, a plumber and ballet star. "They all seemed real — probably because he really knew them, like he knew the land and the weather he painted with words."
Producer and screenwriter Kirk Ellis, who wrote a screenplay based on Evans' 2002 non-fiction book Madam Millie: Bordellos From Silver City to Ketchikan, said Evans drew inspiration for this work from the "working people of the land of the West."
Evans' characters, he said, were "the ordinary people, the downtrodden, the losers — he celebrates that."
Evans rarely talked about his war experiences, but the personal, physical and emotional trauma he experienced during the Normandy invasion remained with him as he continually suffered from nausea, stomach pain and hearing trouble because of the injuries he sustained in combat.
"All of us who survived — who weren't killed — came back, and we were all kind of crazy for a while," Evans said in a 2017 interview with Pasatiempo. "People were always respectful and condoned a lot of nonsense from us. They put up with a lot of crap."
Of his own drive to write, he simply said, "A real writer is someone who can't help it."
Evans' forays into Hollywood led to friendships and sometimes feuds with the likes of director Sam Peckinpah, actors Fess Parker and Burt Lancaster and producers whose names he either forgot or didn't wish to recall. He relished all the experiences and enjoyed telling and retelling them to friends and associates — even if his stories climaxed with him on the losing end of a Hollywood deal.
But he was proud of director Stephen Frears' 1998 film version of The Hi Lo Country, mostly shot in New Mexico, saying he felt it was faithful to his book.
Evans' other literary works include Bluefeather Fellini, a collection of animal stories, and his last novel, The King of Taos, which the University of New Mexico Press published earlier this year.
Stephen Hull, director of University of New Mexico Press, said Evans told him The King of Taos would be his last book.
"I didn't believe him," Hull said. "Max had so much energy and so much spark and so much life."
He called Evans the best "chronicler" of the changes wrought on the American West when trucks replaced horses in the 1940s.
Shortly after the publication of The King of Taos, Evans — who moved to Albuquerque in the late 1960s — took a fall at his home and was hospitalized at the Raymond G. Murphy VA Medical Center , where he died.
Survivors include Pat, his wife of 71 years, and their twin daughters, Sheryl and Charlotte. Pat Evans said her husband wished to be cremated and she will plan a memorial service at a later date.
Evans liked to say he already lived 1,000 years by the time he was 70. Now, his wife said, "He's off on his second thousand years."
Ellis said Evans' passing will leave a void in the writing world.
"Max was connected to the land in a way people today are not — and probably never will be," he said. "His tradition of writing — he takes it within. There's nobody left like him, really."
~~~~~~~~~~~~~~~~~~
A Sage Voice of the West Still Has Plenty of Life ~ NYT
March 11, 2006ALBUQUERQUE, March 10 – No. 11 on the Western Writers of America's list of the best western authors of the 20th century answers the door of his subdivision hacienda in jeans and cowboy boots, an ivory shirt, black wool vest and a black bandana fastened with a silver Indian clasp.
But don't go expecting lightning draws and smoking six-guns from the pen of Max Evans, a hard-drinking and brawling ex-cowboy, painter, prospector, land trader, used car dealer, gold-smuggler and seer. He is where the old Wild West ends and the new not-so-wild-but-still-plenty-rough-and-surely-funny West begins.
It is a good time, and maybe high time, for the 81-year-old Mr. Evans, an arresting figure with a rakish pompadour and a flattened nose from numerous barroom differences of opinion. His West is the West of the 1930's, 40's and 50's, when the horse gave way to horsepower and what happened to cowboys in town on a Saturday night in the way of drinking, fighting and chasing women made for better telling than anything that happened on the trail.
It is the West of zany characters, like the eager Japanese investors with their slick California agents out to buy a dysfunctional New Mexico ranch in the novella "The Orange County Cowboys," or the irresistibly handsome half Taos Indian, half Italian-American Bluefeather Fellini, protected by a Native American spirit guide as he digs for gold, fights the Nazis, captures the hearts of women and discovers a mystic underworld realm of mineral riches straight from the pages of National Geographic.
Now, after years of relative obscurity, despite 27 books and two films, Mr. Evans is gaining recognition as an original stylist worthy of academic and commercial interest. He has two new books heading for publication next year — one on the film director Sam Peckinpah, the other a memoir told through the horses in Mr. Evans's life — as well as three film or television projects. The Lea County Museum in Lovington, N.M., has installed a Max Evans Room. The University of Texas at El Paso has taken his literary archives. And Fort Lewis College in Durango, Colo., has an oral history of Mr. Evans's gold-smuggling exploits that is locked up until 2020, by which time, Mr. Evans said, "If I ain't dead, I should be."
All this, despite the fact that, as Mr. Evans said, "I'm categorized as 'western genre,' which is dead in the world."
For years, indeed, he was little known outside a circle of devotees most ardently represented by Peckinpah, who never did come through for Mr. Evans, although, he said, they had one heck of a good time failing to make pictures. Mr. Evans did, however, play a bit part in the director's "Ballad of Cable Hogue."
The recognition is long overdue, said Charles Champlin, a former Denver bureau chief of Time and retired film critic and arts editor of The Los Angeles Times. "He's sui generis," Mr. Champlin said. "He understands the present West better than anyone else, what it's like to be there now living in two worlds of the pickup truck and the bronco."
The assessment is echoed by Mr. Evans's biographer, Slim Randles, an Albuquerque newspaper columnist and novelist and the author of "Ol' Max Evans: The First Thousand Years" (University of New Mexico Press, 2004).
Mr. Randles called Mr. Evans "one of the best writers in the English language today," with boundless verve. "Max," he wrote, "could sell retirement plans on death row."
Mr. Evans's books have yielded two Hollywood films, one of which — "The Hi-Lo Country" in 1998 with Woody Harrelson and Billy Crudup as two cowboys in love with Patricia Arquette as the gorgeous young wife of their evil ranch boss — took only 37 years to make. The other, "The Rounders," with Henry Fonda and Glenn Ford, came out in 1965.
Now, he has written a screenplay based on one of his novellas, "Xavier's Folly," about a country plumber in love with ballet, and David E. Peckinpah, the director's nephew, is seeking to film a second script they wrote together based on "My Pardner," Mr. Evans's autobiographical novella about a boy's painful apprenticeship to a scheming old cowpoke. A University of New Mexico history professor, Paul Andrew Hutton, is writing a screenplay for a four-hour mini-series based on Mr. Evans's 2002 biography of Silver City Millie, a legendary New Mexico madam. And he is finishing two new books, which he is writing on yellow pads, having regressed from modern technology — his typewriter. His wife, Pat, a watercolorist, types the manuscripts on a computer.
The vanishing West is Mr. Evans's obsession. For his last book, "Making a Hand: Growing Up Cowboy in New Mexico," published in 2005 by the Museum of New Mexico Press, with photographs by Gene Peach and an introduction by a fellow western writer, Elmer Kelton, he followed a group of boys and girls learning cattle-driving, roping, branding, rodeoing and the other dying skills of cowboying. "In the seven and a half years I spent on it, half the ranches we started with have gone," Mr. Evans lamented.
His paternal grandfather, a cattle rancher, founded Ropes, Tex., now Ropesville, near Lubbock, and his maternal grandmother was part Cherokee Indian, with what Mr. Evans said were psychic powers that she passed on to him for a time, enabling him to read fortunes and making him hard on electric appliances, which have been known to blow in his vicinity.
He was brought up — "or more properly kicked up" as he wrote in "The Hi-Lo Country" — by old-time cowboys, whose own roots reached back to the 1880's. On a ranch near Santa Fe he found, of all things, a bookshelf of Balzac, a life-transforming experience. "To me he was the greatest who ever lived," Mr. Evans said.
Enlisting in the Army after Pearl Harbor, he ended up on the beaches of Normandy on Day 2 of the invasion, in hellish fighting recounted in "Bluefeather Fellini." After the war, Mr. Evans studied painting with Woodrow Wilson Crumbo, a Potawatomi Indian artist, who also became his partner in prospecting. The two made a fortune in copper and uranium mines, Mr. Evans said, millions they just as quickly squandered and lost when prices plunged.
For a time, he said, he became a middleman in an operation smuggling gold out of Mexico through El Paso to China and India — a tale, Mr. Evans said, that best remains untold until the Fort Lewis College archive is opened 14 years from now.
In 1957, having painted 300 canvases, Mr. Evans said, he decided to give up art for writing, a shift, he said, that coincided with the loss of his psychic powers after a peyote-induced dream in which he saw a curtain close off his mystical gift. Then, in 1987, Mr. Evans said he was going through notes for 40 books, agonizing over how he was going to write them all, when the revelation struck: he would write them all into "Bluefeather Fellini." The epic with its sequel, "Bluefeather Fellini in the Sacred Realm," written on 21 legal pads, was published in two parts in 1993 and 1994 by the University Press of Colorado, the house's first fiction.
The writing comes harder now, Mr. Evans said. "I would write until I couldn't see anymore; now I can only last four or five hours. When you age as a writer, you do slow down. Your brain shrinks, despite what science tells you. But the core gets knowledge. All you have to do is realize that. I'm slower, but it doesn't bother me because I know where I'm going."