By Seth Boster
An unfortunate happenstance set Lisa Issenberg on a career that would intersect with America's grand celebration of winter action sports.
"Really, breaking a leg was the thing that gave me the space to take metal classes," Issenberg says.
Breaking a leg meant she couldn't play volleyball her senior year at Tufts University. It meant she could pursue an artistic curiosity — an education she took from the East Coast to southwest Colorado, where out of college she skied and sold her metalwork. It started with jewelry and decor.
Some 30 years later, Issenberg is producing the pieces being awarded this weekend to the brightest skiers and snowboarders at Aspen's X Games: those gold, silver and bronze medals crafted by hand at her Ridgway workshop.
She made about 60 for this year's event. Each weighs 12 ounces, but each has its irregularities: a slightly different luster, slightly different angles in the X and Maroon Bells and other components making up the medals, rectangular instead of circular like those Issenberg fashioned last year.
They are the products of "head, heart and hand," as Issenberg likes to say, borrowing a phrase from an idol, influential graphic designer Herbert Bayer.
They are the latest creations out of her one-woman outfit called Kiitellä. That's a Finish word meaning "to thank, applaud or praise," fitting for her nearly decade-long focus.
In trophy-making, Issenberg has found rewards of her own.
"Enjoyable on all fronts," she calls it. "Creating work that celebrates the accomplishments, victories, humanity and philanthropy of others. … You are a piece of that recognition or gratitude through your art."
Clients have included the American Alpine Club, which gave Issenberg-made awards to a pair she admired: previous Secretary of the Interior Sally Jewell and conservation-minded Mark Udall, the former Colorado senator.
Outdoor brands such as The North Face and Marmot have counted on Issenberg for awards. As has Denver Film Festival. And skiing world cups and championships have requested her services, the prizes going to such legends as Lindsey Vonn, Mikaela Shiffrin and Ted Ligety.
The X Games called for 2020 medals. There was interest in Issenberg's environmentally friendly approach; materials are 90% recycled, she says, and she employs a process that minimizes waste. And there was interest in her approach combining industrial precision and hand craft.
A machine ensures the clean-cut medals, their uniformity. But "as an artist, I sink my hands in to bring out the soul," Issenberg says. "Weld, grind, polish, patina the metal, pound the rivets. Each piece is slightly different than the next."
This achieves wabi-sabi, a Japanese philosophy she admires recognizing the beauty of imperfection. It's a philosophy followed by a metal-working neighbor of hers in this small, unassuming town in the San Juan mountains: John Billings, famous for hand-making the Grammys.
While he has worked in a dingy, cigarette smoke-filled shop below, Issenberg has worked in a bright, colorful space above in the same building. She displays murals and mementos from a trip to Greece, where she studied abroad in college and fell in love with metal.
Her interests had always been active. Volleyball, skiing, cycling. "It was really the first time I felt such passion for anything standing still," she says. "I would completely lose myself in metalwork."
Now Issenberg can turn on the TV and see the fruits of her labor on the big stage. Occasionally, she'll get a note of thanks from recipients of her art.
"And that's just really nice," she says, "because, again, I'm just a person who got lucky to find something I love to do."
~~~~~~~~~~~~~~~~~~
Ridgway artist designed, created 2021 X Games medals
Lisa Issenberg first created the X Games medals in 2020, and she's back for a second year.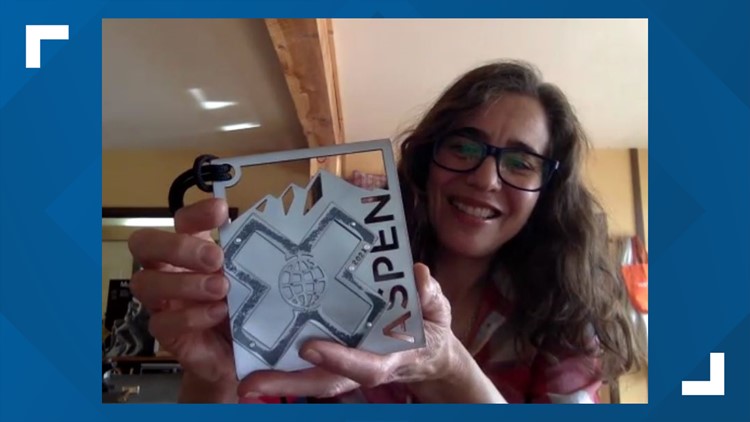 Lisa Issenberg shows the 2021 X Games medals she designed.
Author: Caroline Gregor (9News)Published: 8:32 PM MST January 28, 2021
RIDGWAY, Colo. — A Colorado artist is the mastermind behind the sought-after 2021 X Games medals.
Lisa Issenberg of Ridgway is the founder and owner of Kiitellä, which is a metal-working studio that makes custom awards. Kiitellä means "to thank, applaud, praise" in Finnish.
Early on, Issenberg focused on metal-working at both a small and large scale. Her talent can be seen in a wide range of work, including her jewelry line called Rocky Mountain Charm, which is represented by Telluride Gallery of Fine Art.
Issenberg's clients have been as diverse as Visa and The North Face, the American Alpine Club and US Ski & Snowboard. She's even been commissioned to make bear-resistant trash and recycling receptacles for the town of Telluride.
She first got her start with X Games in 2020 when the artist working in the workshop below hers, John Billings, recommended her to X Games. You've probably seen some of his work too – Billings is the maker of the Grammy awards.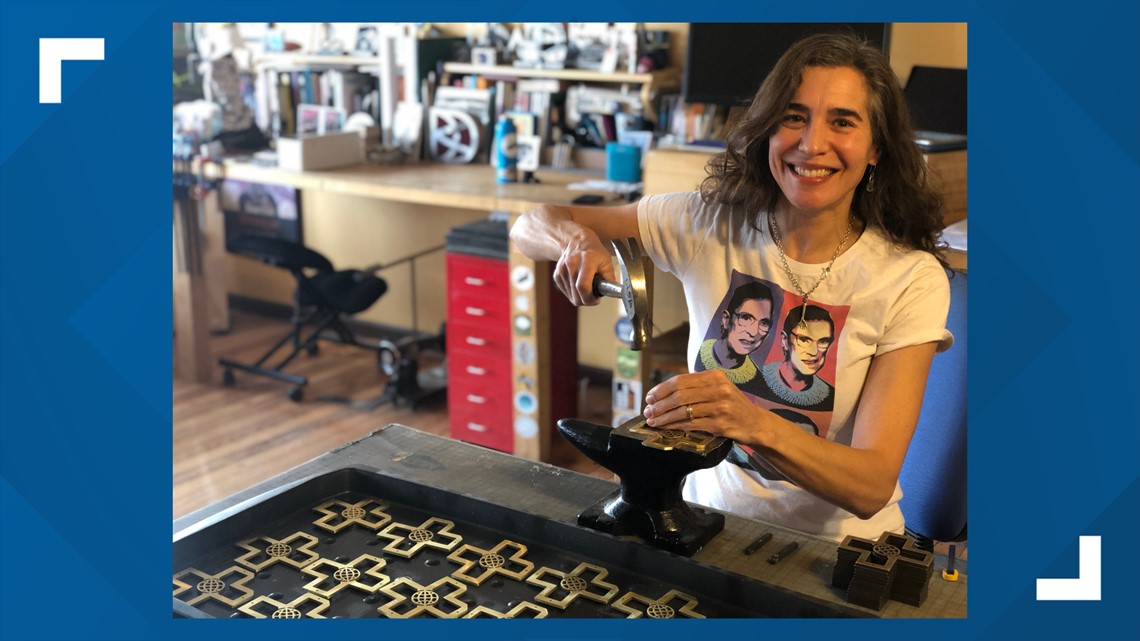 Credit: Lisa Issenberg: Lisa Issenberg making the X Games medals.
X Games was looking for a Colorado artist to make the medals and Issenberg said after Billings received a call, he instantly told ESPN executives to, "Give Lisa a call."
This year, Issenberg was once again commissioned to make the 57 medals for the games.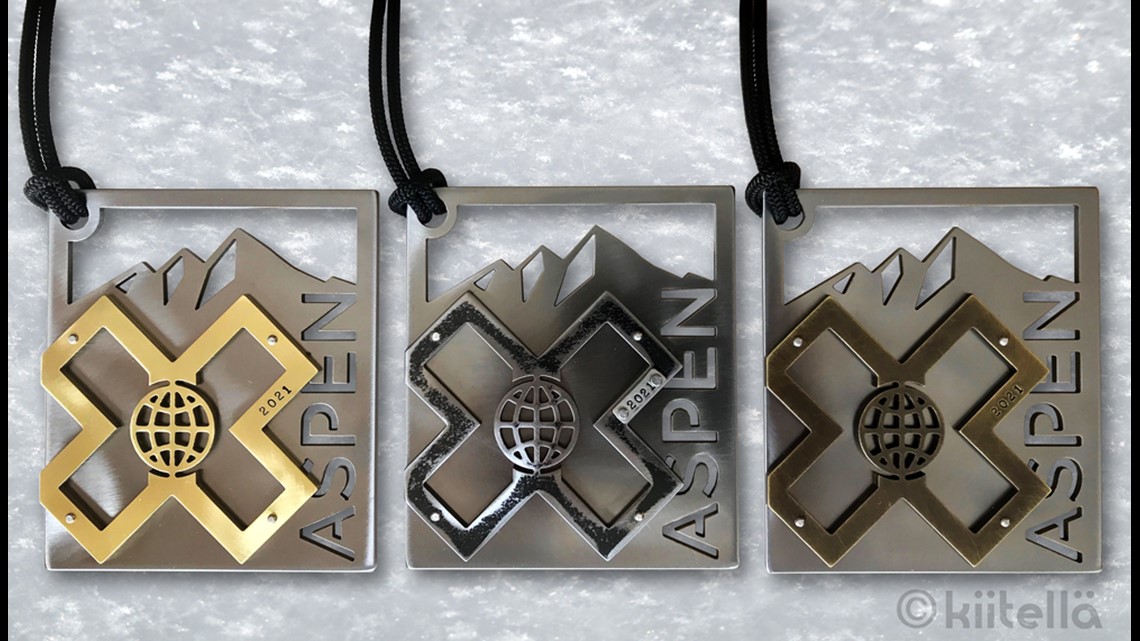 Credit: Kiitellä 2021 X Games medals.
To execute the design of the 2021 medals, Issenberg worked closely with Brian Kerr, the associate director of sports & competition for ESPN, who reviewed her sketches of various medal designs and fine-tuned some of the details to make the perfect awards.
This year's design derived from one of the design sketches they chose not to use in 2020, but after some tweaks and adjustments it fit.
Issenberg said she loves making the awards for the X Games because she gets to create lively works of art that celebrate the "accomplishments, victories, humanity and philanthropy of others."
"With each project, I consider the recipients, who they are and their accomplishments," Issenberg said. "The X Games in Aspen is the biggest multi-discipline snow sports event of the year. Some of the best athletes in the world doing wild maneuvers. They've worked hard to get to the podium and medals should reflect the accomplishment."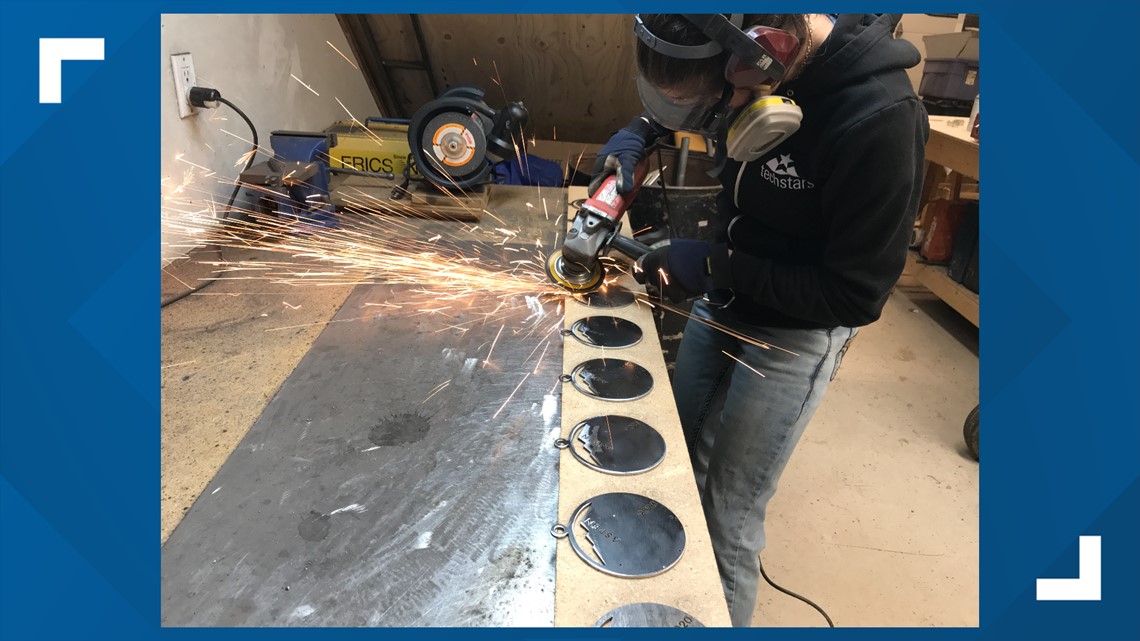 Credit: Lisa Issenberg: Lisa Issenberg making the 2020 X Games medals.
And she gave her all to each of the 57 medals.
"I enjoy working with my hands, physically working on each piece like it's the most important piece and then letting them float away."
Kiitellä also puts a big focus on sustainability. Each step in the process, from design to fabrication to delivery, uses minimal energy and material. The steel she uses is 90% recycled content. For plaques, she incorporates bamboo or locally-sourced reclaimed wood, some of which she said made its first appearance on a barn in the 1800s.
You can watch athletes wear her medals during the X Games starting Friday, Jan. 29 through Sunday, Jan. 31.