.
~~~
Teton Climbers' Coalition speaker series
'The Infinite Spur' with George Lowe, Michael Kennedy and Michael Gardner 7 p.m. Thursday on Zoom TetonClimbers.com By Gabe Allen
The tools of the modern alpinist have changed so much over the past 40 years that many are unrecognizable when compared with the objects that they evolved from. Waffled polyester has replaced wool, bent shaft carbon fiber ice tools are used in the stead of steel axes, and colorful camming devices are placed gently into granite cracks where the scars from hammered metal wedges still linger.
But there is one ingredient to a successful ascent that is more important than any specialized tool: an idea. The idea that the physical exhaustion, psychological turmoil and inherent risk encountered on an ascent are worth overcoming. The idea that the experience has intrinsic value.
"The risks are really high, and the reward is very ambiguous and muddled," Jackson-raised mountaineer and guide Michael Gardner explained. "After you have an incredible experience on a big mountain, it's not like you get back to camp and someone gives you a gold medal. It's not a fulfilling experience unless you're motivated internally."
In 1977, Michael Kennedy and George Lowe pioneered a route up a steep tongue of ice and rock that jutted from the south face of the Alaskan Range's second highest peak, Mount Foraker. They dubbed the route the "infinite spur" for its "length and the 11-day round trip of our ascent."
Forty-two years later, Gardner and his climbing partner, Sam Hennessey, retraced the route with skis on their backs.
Kennedy, Lowe and Gardner will revisit the two historic expeditions starting at 7 p.m. Thursday via Zoom, the Teton Climbers' Coalition's second presentation of its winter speaker series.
The three mountaineers don't have note cards with talking points; rather, the event will be framed as a conversation between two generations of cutting-edge alpinists.
"As often as not, they're not actually talking about climbing," Teton Climbers' Coalition Chairman Christian Beckwith said. "They're talking about how climbing is a vehicle for the exploration of life. This route is a sort of connection through time through different generations and the commonalities that bind them."
Last-minute decisions
The decision to overcome trepidation and make an attempt was last-minute in 1977 as well as in 2018.
Lowe's and Kennedy's ambivalence stemmed in some part from the weeks leading up to the climb. The duo had originally included a third member, Lowe's brother Jeff. As a "warm-up" for the more remote and committing ascent of Foraker, the team attempted to climb a new route on the north face of Mount Hunter. During the most difficult section of mixed climbing, disaster struck: Jeff Lowe knocked a cornice loose and fell 60 feet, breaking his ankle.
After descending and getting him on a plane back to Anchorage, George Lowe and Kennedy went back to Mount Hunter and completed the route. Even with a successful climb under their belts, the seriousness of the incident lingered in their minds.
"The accident had shaken us both, but it also gave us a certain confidence," Kennedy wrote in a recent article in The Alpinist titled "Falling into Place."
Ultimately, just three hours before they left, the pair made the decision to go for the spur on Foraker. In a flurry of last-minute preparation they abandoned plans to ascend the far less technical Cassin Ridge on Denali.
"I thought we'd always question ourselves if we didn't take this step into the unknown," Kennedy wrote.
Take Two
Forty-two years later, Hennessey and Gardner's ascent fell together in a similar haphazard fashion. Gardner had been toying with the idea of a ski-laden expedition on the route ever since he started guiding on Denali with Alaska Mountaineering School. "I'd been looking over at the Sultana Ridge for 10 years," he said. "Sam and I, throughout a couple of years of guiding together, had the idea of taking ski alpinism to the greater ranges. It was a really enticing objective because it's so far to the base and so far off the top that, if you had the capability to climb with skis on your back and ski boots on, it was the most logical way to approach the mountain."
Even though the concept of the route had been living in their collective subconscious for years, Hennessey and Gardner didn't decide to go for it until the night before they left. After an unsuccessful attempt of a route on Denali's south ridge, the forecast predicted a window of unusuallygood weather. "We had just been stormed on for four days and had run out of food," said Gardner. "I don't want to make it sound too cavalier, but we didn't even have the right toe bails for our crampons to fit onto ski boots. We were running around base camp trying to see if anybody had them."
At 8 p.m., the last plane of the day dropped off the missing crampon component. Five hours later they began their approach.
Mental preparation
Although their stories might cast the four alpinists as impulsive, reckless adventurers, that couldn't be further from the truth. The hasty preparations described here were just the tip of the proverbial iceberg. Each of the four men had experienced the death of peers, friends and mentors. Each of them had suffered exhaustion, thirst, hunger, injury and desperation. And each of them had continued to make the choice to return to the mountains.
On Thursday they will attempt to delve into their motivations, although, as Kennedy put it, they aren't always clear at the time.
"For me, once I completely understood why I did these particular types of routes, I didn't need to do them anymore," he said. "Maybe that's too simplistic. There's a lot to unpack here."
Contact Gabe Allen via 732-7078 or entertainment@jhnewsandguide.com.
George Lowe following Michael Kennedy up the crux of the Infinite Spur on Mount Foraker in the Alaska Range during the first ascent in 1977. Kennedy and Lowe will share tales of the adventure, along with Michael Gardner, who with Sam Hennessey repeated the feat in 2018 — then skied down from the summit — Thursday in the second event in the Teton Climbers' Coalition's speaker series.
COURTESY PHOTO
~~~~~~~~~~~
Michael Kennedy, George Lowe and Michael Gardner explore one of the world's great alpine routes: The Infinite Spur.
About this Event
N.B.: If Eventbrite displays a message stating "you don't have access to this event," click "View Event Details" in the upper righthand corner, or email us directly at info@tetonclimbers.com.
In 1977, George Lowe and Michael Kennedy made the first ascent of one of the great lines in world mountaineering, Alaska's Infinite Spur, in an eleven-day odyssey that stretched the boundaries of alpine climbing possibility.
Forty-two years later, second-generation Teton climbing guide Michael Gardner and partner Sam Hennessy climbed the route in a 48-hour push in ski boots while carrying skis, then skied the mountain's Sultana Ridge to descend.
This special presentation features an intimate and candid conversation about climbing one of the world's finest alpine challenges with three of its pioneers, and the way great lines connect their ascensionists through time.
The event, which is being sponsored by the Hatchet Resort, Black Diamond, Teton Mountaineering, Skinny Skis, Alpinist Magazine,Arc'Teryx, Access Fund, and The American Alpine Club, in collaboration with Coombs Outdoors and the Jackson Hole High School Mountaineering Club, will be streamed via Zoom.
A 45-minute "happy hour" before the main presentation will provide participants an opportunity to socialize, and to learn more about the TCC's work on the Rec Center climbing gym.
The event is free and open to the public. A $5 donation is suggested. A link to the Zoom event will be sent to registrants one to two days before the event itself.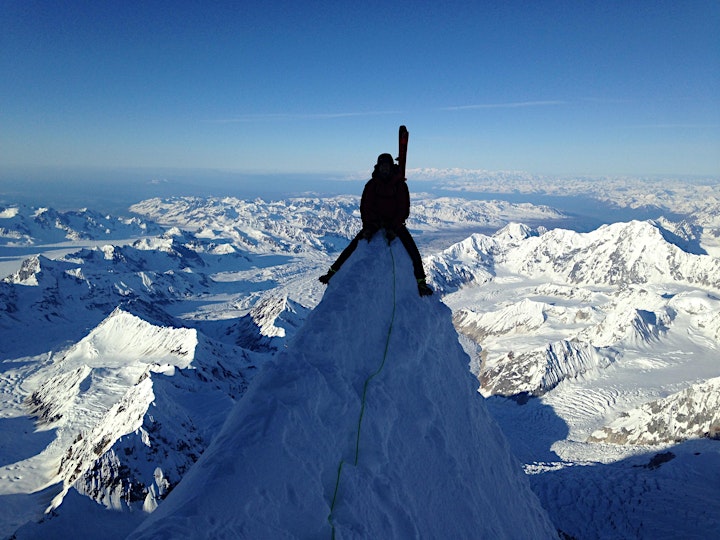 Michael Gardner in 2019 on a 48-hour push on Mt. Foraker's Infinite Spur. Photo: Sam Hennessy