.
A 4-Corners Trip is a study in contrast and contradiction
A few days ago I piloted my old Nissan Sentra down the narrow, windy road of McElmo Canyon in southwest Colorado. It's always been one of my favorite spring or summer drives. The descent from one eco-zone and geological era, marked by sage-strewn mesa top and lithicized sea-silt, down into the older, more sensuous layers of ancient dunes, feels a bit like time travel. And I revel in green hayfields juxtaposed against soft pink-beige sandstone and of voluptuous peaches hanging heavy on leafy trees.
Earlier this summer, a McElmo Canyon farmer told me it had been the driest spring he'd seen in 16 years. By May it was clear that the ditches that feed McElmo Creek, most of which are fed by the Dolores River, would have far less water than usual, and that farming throughout the region would take a big hit. So, as I made my first trip into McElmo since early May, I half-expected to see straw-colored fields, the leafless skeletons of cottonwoods, and withering stalks of corn.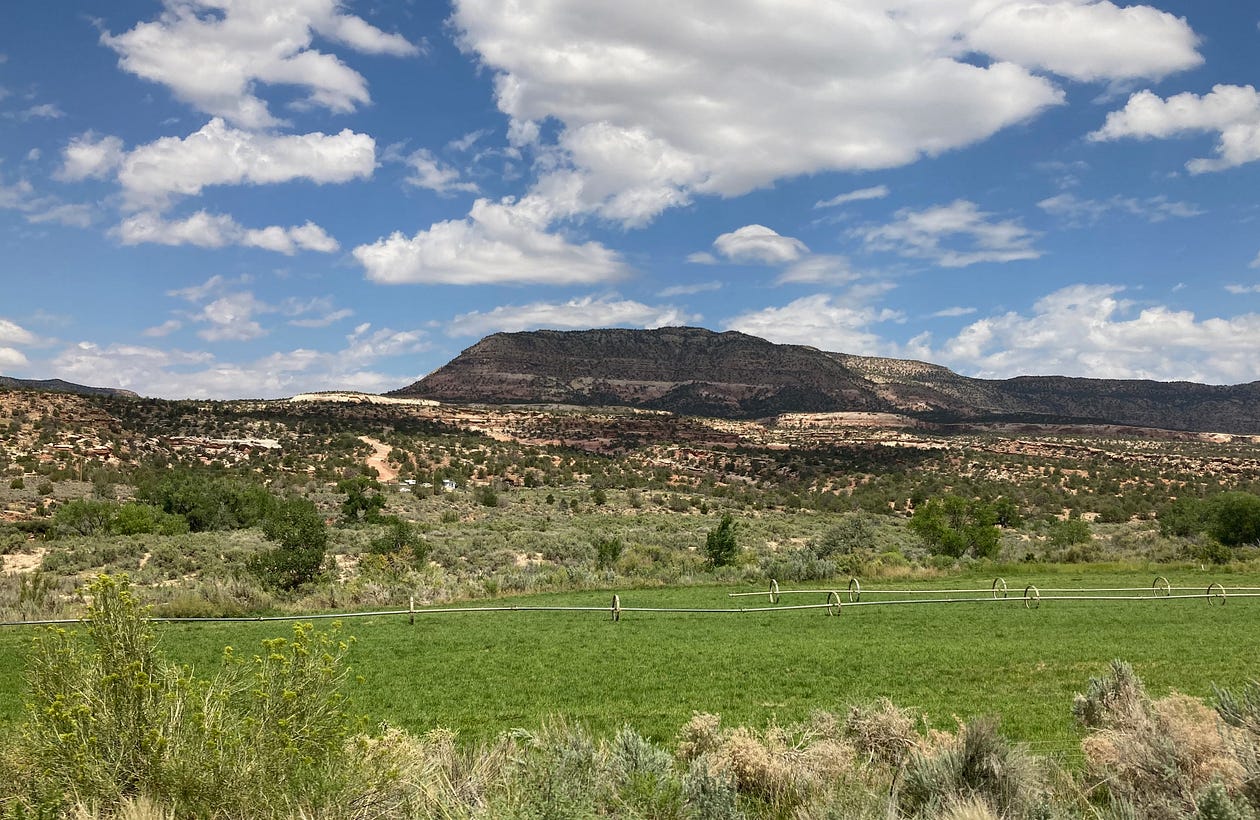 Instead, the hayfields were verdant and lush, cottonwood leaves shimmered in the sun, boxelder trees and brambles grew so thick in one place that they seemed ready to gobble up a small, crooked house. It was all so green, so fecund, that I couldn't help but scoff at the prognostications of doom and drought that flew so freely as recently as early July. The monsoon had arrived after two years' absence, bringing with it intense downpours that provided a sweet salve for a parched landscape, that gave farmers four cuttings of hay after they feared they would get none. The drought that had threatened to go on forever was over. Or so it seemed.
But as I drove further down canyon, then up onto the Great Sage Plain and lands that can't be reached by the ditches with senior water rights, the picture changed. These fields, too, had received abundant rains, as was clear by the fresh gullies, the thick red water pooled at the corner of a field, the flash flood debris wrapped around a thick, old juniper. But they had come too late: Because the fields had been deprived of moisture for so long, the rains did little except to nourish weeds and purloin rich topsoil.
Here I saw a long sprinkler system standing idle in a patch of thicket of thistle, there a deer chomped its way through a stunted cornfield. I doubt the farmer paid it any mind, since the plants—barely knee-high six weeks after the Fourth of July—clearly wouldn't yield much anyway. What appeared to be a flourishing field of alfalfa turned out to be a prolific bunch of goatheads that had emerged where a farmer hadn't bothered to plant anything at all. Everywhere I saw signs of persisting dry times.
Yes, the rains came at last. Yes they delivered in abundance. Yes they greened things up and quenched the desiccated soil. But the monsoon, while welcome, is a trickster, pulling an emerald veil over our eyes in order to hide the truth: The megadrought—aridification, if you prefer—is not over by any means.
The truth is evident in streamflow graphs, which show water levels spiking after each storm before quickly returning to their below-average levels; in the level of Lake Powell, which slowed its downward slide briefly after massive flash floods dumped their loads into the lake, before declining once again. The truth is visible in the drought maps, which show the severity of dryness dissipating slightly in parts of Western Colorado but remaining high across the rest of the West. And the truth is in the persistent haze blotting out the once-clear views, smoke emanating from the 700,000-acre Dixie Fire and the 100,000-plus-acre Caldor Fire in northern California as well as the 600,000 acres of forest burning in Oregon and Washington.
So, yeah, ol' Monsoon may be a bit of a con-man, but sometimes it feels good to be deceived, to surrender to and even revel in the ruse, if only just for a moment. So please don't try to stop me as I venerate this sky-reflecting pool in desert sandstone. And do forgive me for frolicking lustfully among that gaggle of sunflowers dancing pruriently in the mud of a roadside ditch.