.
I'll say it once and I'll say it again: Thank you for your support. I couldn't do this without you. Don't let your friends miss out! Tell them about the Land Desk or, better yet, buy them a gift subscription.
---
A photo essay by Samuel Shaw
The following photos and words are by Samuel Shaw, a photographer and writer. They are from his series entitled Desert Dreamworks.
"As Americans, we are scarred by the dream of innocence. In our hearts, we still believe that the only truly beautiful landscape is an unpeopled one. So to wash our eyes of the depressing evidence we have raced deeper and deeper into the wilderness, passed the last stagecoach stop and the last hotel, to see and claim a section of God's own garden before our fellows arrive to spoil it." – Forward to Robert Adams' "The New West," 1974
Thornton is on the advancing edge of a large and highly successful concrete organism called the FRUC, or the Front Range Urban Corridor. I exit my car on the border of one of its many moonscapes. This one's called Willow Bend, a subdivision marketing single-family homes for the low 400's. Right now, in the feral heat of August, there is little more than scraped earth and the smell of tar bubbling through cracks on the access road, but a vast choreography of heavy machines, framing crews, and landscape teams will see to Willow Bend's transformation in little more than a year. I crouch in the shade beside a parked excavator and take a photo.
This image may look familiar. In fact, it owes a serious debt. Fifty years earlier, another photographer stood five miles from me on the boundary of Arvada's first automobile suburb. Robert Adams' eerily prescient photo series, "The New West," indexed an unfolding process in its infancy: new roads and gas stations, oil wells usurping coal mines, the tract homes burrowing deep into open space—they are a portrait of this century as much as the last. For that reason Adams' project is also unfinished. And perhaps it never can be, as long as the FRUC sprawls outward.
From 2010 to 2017, Northeast Denver saw the fastest suburban growth in the country, fueled by multi-national investment giants like Berkshire Hathaway. One of the newest single-family developments in their Colorado portfolio is called The American Dream. Its foundations are being poured within earshot of America's third busiest airport and fourth largest landfill.
In places like Weld county's Wyndham Hill development, the relationship between land and speculation, resource and extraction, is close enough to fit in a single camera frame. Oil wells feet from homes are common here, just as the spills are; twelve in the first two weeks of October, according to the Greeley Tribune. A hundred yards away, local kids play on a dirt mound while framers lash together one of the last houses in the sub-division.
Signs of change pop up early by freeway off-ramps a few miles away in Prospect. Clip-art families and dogs and fit young people are affixed to outdoor displays long before any construction starts, as if to announce the lebensraum. "New Homes Coming Soon," reads a wooden totem. The other side of its square shaft replies, "city with a side of nature." Like ancient steles in Mesopotamia, they carry some ideological heft. One Broomfield billboard skipped the lifestyle imagery entirely. In their place was a six word mantra: "Big ideas start with heavy equipment."
I went through my roll of 35mm shots, comparing them to ones Adams took half a century ago. Other than the billboard design and slight shifts to our frontier architecture style, most photos are difficult to distinguish at all. That radiant Colorado sun, still, somehow, extracts an unlikely beauty from an undeserving subject.
In moments like this I imagine a world in reverse, where the ice sheets annex shipping lanes and the FRUC retreats, its parking lots split and swallowed by prairie grass. These are pipe-dreams of course, but an aborted—and admittedly crude—2019 ballot initiative to slow development across eight counties gives me hope that the machine can be arrested, or evolve into something more efficient: less thirsty for water and greedy for land.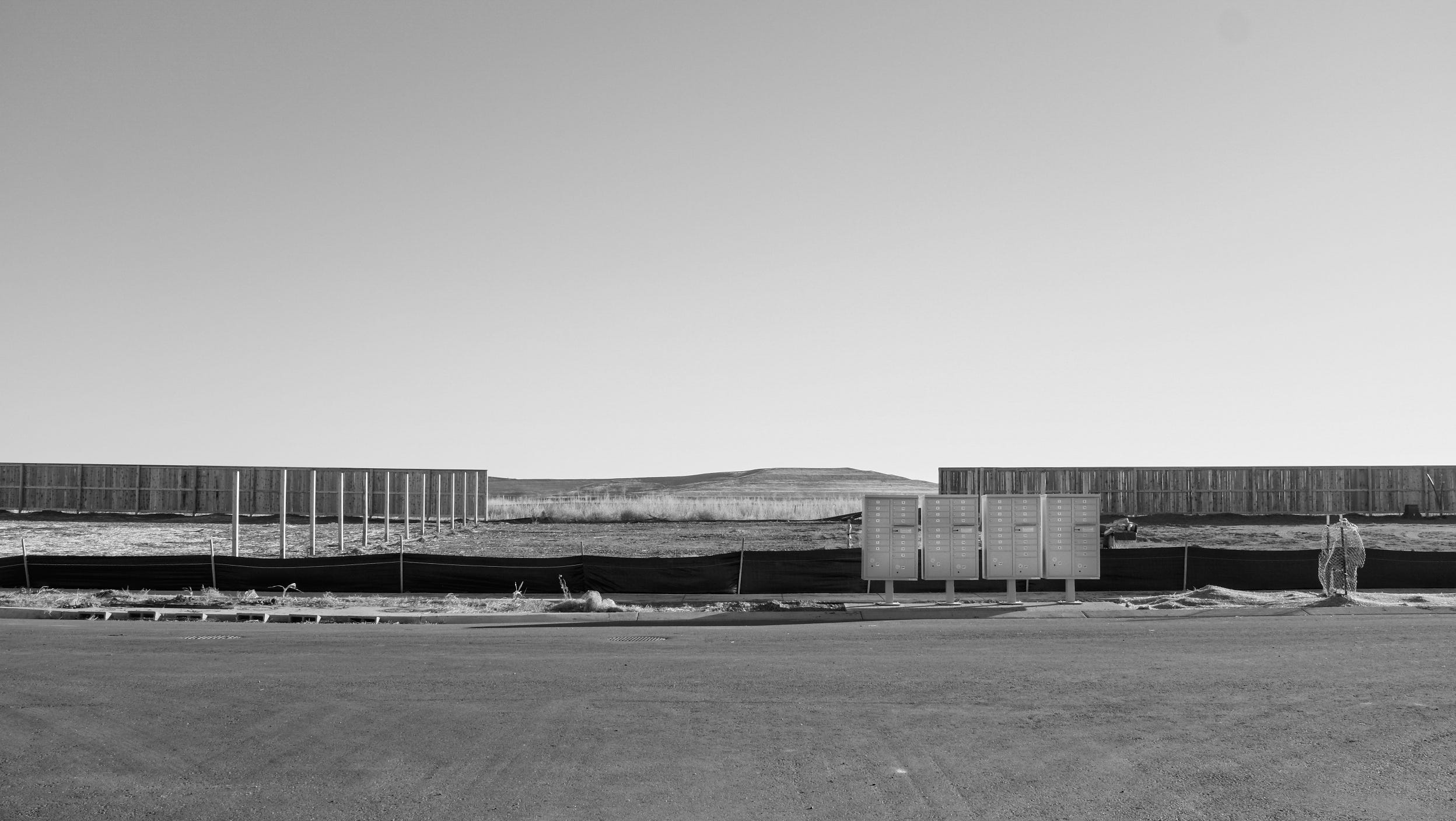 Then I think of Louisville, where I grew up, and an unusual visitor to our tract home a few years back. A small pick-up truck loitered for a moment at the end of the cul-de-sac when a middle-aged man stepped out onto the driveway and approached the door. He was one of the original occupants of our house, constructed in 1983. He'd come to see what it looked like now. "Behind the fence there, that's where the buildings stopped. No Rec Center, no anything up to South Boulder road. This was just open space," the man said, pointing at the neighbors' porch. The edge has become the center.
*
Samuel R. Shaw is a recent MAJ graduate from Goldsmiths University who grew up outside of Boulder. He founded The Speer, an independent magazine covering land-use issues around Denver, and currently works with Denver-based photographer Ron Pollard on the site WKE, which serves as a virtual gallery for critical, Colorado-focused art projects.