.
As I write this, a fire rages outside of Estes Park, Colorado, the gateway to Rocky Mountain National Park. Residents were forced to flee their homes. A pilot died when the single-engine tanker plane he was flying to fight the fire crashed. The fire—like many of the massive blazes in California this summer—was sparked by electricity utility equipment.
The blaze is burning above 7,500 feet, in northern Colorado, on slopes that, under the "old normal," would have been blanketed by snow. But climate change has rendered "normal"—along with the notion of a fire season with an end and beginning—obsolete.
Last fall a wildfire charred 500 acres at 10,000 feet in elevation near Ice Lakes above Silverton, Colorado. At around the same time, the East Troublesome Fire tore through nearly 200,000 high-elevation acres in northern Colorado. All of this jibes with the results of a study published this year that determined climate warming has "reduced the high-elevation flammability barrier" and enables fire to burn through mountain forests long after fire season once ended.
More surprising than a mid-November fire is that Colorado managed to get through most of the year without any megafires, even though aridification had turned the Western part of the state into a tinderbox. A lot of this had to do with timing: Eastern Colorado was doused with late spring rains, dampening fire hazard during the summer, and a record-breaking July monsoon managed to ease the drought further West before any big blazes took hold.
But that was followed by a warm late summer and fall, which has pushed large swaths of the state back into drought and hindered ski area snowmaking. Now the state's waiting eagerly for winter to arrive: Denver has gone a record 212 days without snow, and fire danger is going back up, just in time for Thanksgiving.
***
On Monday, the Biden Administration announced its plan to halt new oil and gas leasing in a 10-mile buffer zone surrounding Chaco Culture National Historical Park, a move applauded by grassroots environmental and Indigenous groups and Pueblo leaders as a first step toward real protection of the Greater Chaco Landscape.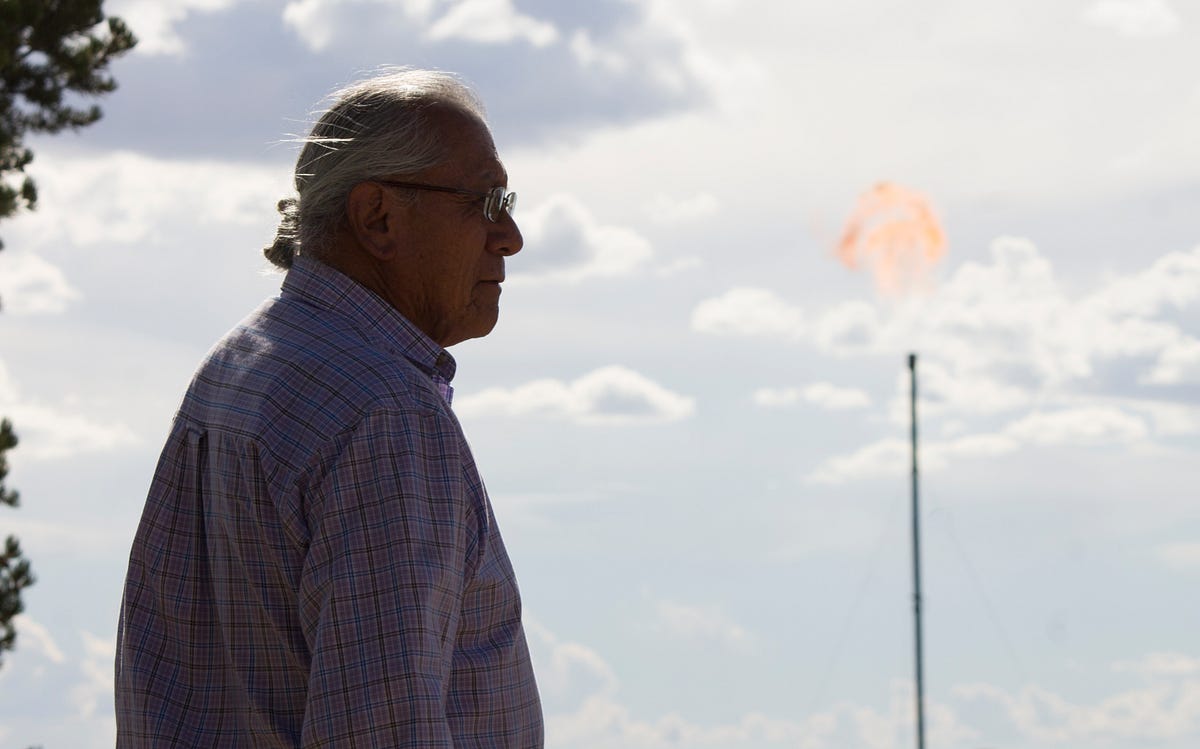 Soon thereafter a headline began popping up in some media outlets that went like this one from the right-wing Daily Caller: "Navajo Nation Slams Biden Drilling Ban, Says White House Violated 'Tribal Sovereignty.'" While the headline and the story that follows is a bit off, it does illustrate some of the complexities inherent to this issue and the "checkerboard" land-use pattern surrounding Chaco.
Some Navajo Nation tribal council delegates oppose the 10-mile buffer zone because it could affect oil and gas development on Navajo allotments within the zone, thereby depriving the allottee mineral rights owners from oil and gas royalties. The leasing moratorium applies only to federally managed land, not allotments. However, because today's oil wells can extend two or more miles horizontally, and the hydrocarbon deposits don't obey property lines, mineral owned by different entities can be combined into one unit or pool. So, it's possible that the leasing ban could indirectly affect allotments.
It's complicated, indeed. But a new documentary unravels the complexity beautifully. Our Story: The Indigenous-led fight to protect Greater Chaco is insightful, informative, and visually stunning. The film, a collaborative effort teaming Indigenous leaders with film makers, does an excellent job explaining the issues and unveiling exactly what's at stake in a sacred place that has been treated as a sacrifice zone since white colonization began, while also revealing the beauty of the San Juan Basin. We highly recommend it.
***
A Government Accountability Office report confirms what most public lands watchers already knew: The Trump administration's 2019 relocation of BLM HQ from Washington, D.C., to Grand Junction, Colorado, stripped the agency of senior staff and employee diversity. That, in turn, diminished the agency's ability to manage some 250 million acres of public land—just as Trump and company intended.
The BLM reassigned 328 headquarters positions to Western states in July 2019. But by then, a lot of staffers, balking at the prospect of going West, had already resigned, leaving 134 of those positions vacant. Of the 176 remaining to be relocated, only 41 accepted the reassignment. Prior to the move, there were 332 Black employees in the agency; two years later the number had fallen to 287.
***
In these times of megadrought and aridification we can expect to see more and more bids to "create" more water via sometimes byzantine methods. Water agencies and ski areas have been funding cloudseeding efforts in the Mountain West for years, for example, despite a dearth of evidence that it works, and now California is considering doing the same in order to bolster snowpack, lake levels, and hydropower generation, which is on the wane.
And then there are even more head-scratching techniques, such as the one moving forward down in Santa Fe. The Santa Fe River, which some may not recognize as a river at all, often runs dry or nearly so as it runs through the city. Then, at the edge of town, it suddenly becomes a river again, thanks to reclaimed wastewater being returned to the sandy channel, which is lined with cottonwoods and other riparian vegetation for the rest of its journey to the Rio Grande.
Now the city is hoping to pipe that reclaimed wastewater directly to the Rio Grande to avoid water losses to evaporation and seepage. This will mean more water in the river, which, in turn, will allow Santa Fe to pull that much more water out of the river for municipal use. I know, I know, thinking about it makes the head explode. But it's not uncommon: Las Vegas does exactly the same thing, pulling water out of Lake Mead, using it, running it through a treatment plant, then putting it back into Lake Mead via Las Vegas Wash in order to augment their water allocation via offsetting their water use.
Santa Fe's method, though, will deplete the lower Santa Fe River of most if not all of its flow, imperiling the riparian environment downstream from the wastewater treatment plant. Today is the last day the city of Santa Fe will accept public comment on its plan.
***
This just in: The House of Representatives has passed the Build Back Better Act, which is the social- and climate-program side of the recently signed infrastructure and jobs bill. The Senate will now take it up for consideration. For more on the infrastructure act—and some cool history about Eccles S. Marriner and the days when most Republicans weren't psychopaths—check out my write up for High Country News, and stay tuned to the Land Desk for more on what's in—and not in—the BBB. If it makes it through the Senate, that is.
###
Thanks for subscribing to The Land Desk, a thrice-weekly newsletter from Jonathan P. Thompson, longtime journalist and author of River of Lost Souls, Behind the Slickrock Curtain, and the forthcoming Sagebrush Empire. This post is public, so feel free to share it.