Mountain Weather / By Jim Woodmencey
Feb 23, 2022
~~~~~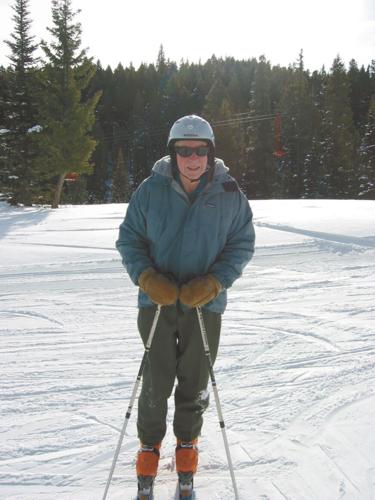 I was introduced to the world of snow science more than 40 years ago, back in 1980, when I was earning my degree in meteorology at Montana State University. At that time the Earth Science Department at MSU also offered a semester course during the winter called "Snow Dynamics and Accumulation," which was really just a more academic title for an avalanche class.
My professor for that course was Dr. John Montagne, a former member of the U.S. Army's 10th Mountain Division. "Doc," as he was fondly referred to by his students, first learned about avalanches in the Alps during World War II. The guys of the 10th would use artillery to initiate avalanches as a strategic technique to fight the Germans.
After the war many of the members of the 10th Mountain Division helped to develop the avalanche safety and mitigation strategies for many of the ski areas throughout the western United States; such work was in its infancy at that time.
Long story short, Doc ended up with a doctorate in geology from the University of Wyoming, had some short stints in Colorado and also in Jackson in the 1950s. Eventually he landed in Bozeman, where he continued to apply his love of snow and science.
Doc's class was one of the best courses I had in college, not just because we got to go out and ski once a week at Bridger Bowl — to study snow, of course — but because Doc instilled in me a life-long interest in both weather and avalanches.
For an aspiring mountain weather forecaster, who also liked to spend a lot of time recreating in the mountains, the application of weather to avalanche forecasting was captivating.
I wasn't the only one fascinated by Dr. Montagne's measured and passionate style of teaching; he also inspired many others to go on to pursue careers in the snow and avalanche world.
Bruce Tremper was in that class back then. Bruce recently retired as director of the Utah Avalanche Center and is the author of the book "Staying Alive in Avalanche Terrain." Ron Johnson, a former avalanche forecaster for the Gallatin National Forest and for Sylvan Pass in Yellowstone National Park, was also one of my roommates at MSU and is still one of my best friends. Fay Schmidt, who also retired a few years ago, was snow safety director and ski patrol director at Bridger Bowl.
Another noteworthy student in that class was Doug Coombs. He was in an entirely different class than me, as far as ski ability goes. Doug was a master in the art of steep skiing, along with being a pioneer in big mountain skiing in Alaska with his wife Emily — also an MSU grad. Doug left behind an indelible mark on Jackson Hole's ski scene on his way to becoming a ski legend.
Many others who took that snow dynamics course over the years are still working in the snow science world today — as forecasters, teachers or snow safety professionals. The common denominator among us all was Doc Montagne.
Even longer story short, in the mid 1980s I worked a season at the Avalanche Forecast Center in Alaska, along with Bruce Tremper. I then returned to Jackson and began working in the winters as a heli-ski guide for High Mountain Heli-Skiing.
My boss when I started at High Mountain was Rand Decker, another product of MSU and now a Ph.D. engineering professor. Rand remained involved with the study of snow and avalanche mitigation techniques, and some of his work can be seen just south of town above Highway 89, at the Milepost 151 slide path.
It was my job as a heli-ski guide that launched me back into weather forecasting. Over the course of the next 20 winters, I was forecasting the weather for the aviation end of the ski operation, answering the question "can we fly today or not?" I was also applying that weather knowledge to the avalanche forecasting aspect of the operation.
That was the ultimate dream job. Not just for the incredible powder skiing, but for the cerebral challenges of trying to forecast both the weather in the mountains and avalanches. Trust me, if you think weather forecasting is complicated, it has nothing on avalanche forecasting. With avalanche forecasting, if you are wrong, you might be dead wrong.
Although I am no longer guiding, I still keep my head in the clouds and the snow. A good portion of my time now is spent teaching others about weather and avalanches.
It's funny, I never really thought of myself as a teacher. I still don't. I just enjoy turning other people on to the things that I have been passionate about all my life: weather and snow.
I suppose it was a natural progression for me to take what I have learned over the years about forecasting weather in the mountains and what I have learned about the behavior of snow, and then pay it forward.
Rod Newcomb deserves mention for taking me in as one of his instructors at the American Avalanche Institute over 30 years ago. Today I am still teaching weather and avalanche courses for AAI and to U.S. military weather forecasters.
Doc Montagne passed away in 2008, but not before I had a chance to thank him, one more time, for starting me down the path I ended up taking. I know he is up there, somewhere in the clouds, looking down with a smile and a hearty chuckle. Who knows what direction I might have gone if it were not for Doc's inspiration?
~~~
Jim Woodmencey is the chief meteorologist at MountainWeather.com and has forecast the weather in Jackson Hole for over 30 years.