Met him at J. Harrison's place in Patagonia, Az. years ago.. had dinner of Dove, Quail and other exotic food that they spent hours preparing and then hours eating… When the wine count went over ten bottles I wasn't paying close attention anymore.
rŌbert
WISDOM FROM THE LEGENDARY FORMER RESIDENT OF PARADISE VALLEY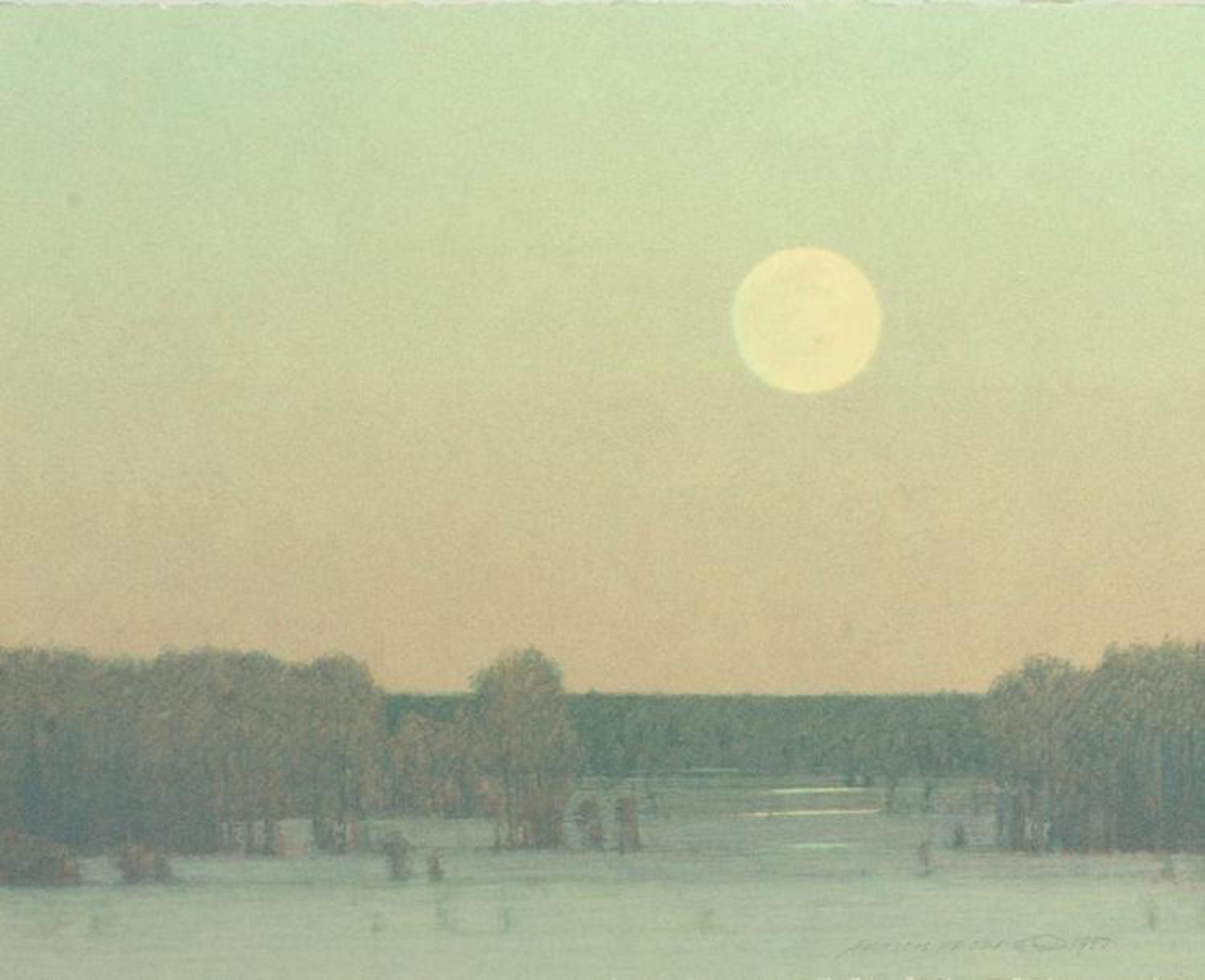 Pale Winter Moonrise by Russell Chatham
In Jackson Hole, the immutable muse for generations of visual artists has been the Tetons. In Big Sky, that landmark is Lone Peak and in Bozeman, the Bridgers.
Just to the east, painter, writer, restaurateur, and incorrigibly-addicted angler Russell Chatham became legend for his association with a different topographical feature, Paradise Valley.
We all know of Paradise Valley for the Yellowstone River that runs through it from Yellowstone National Park to Livingston and then angles to an eventual rendezvous with the Missouri.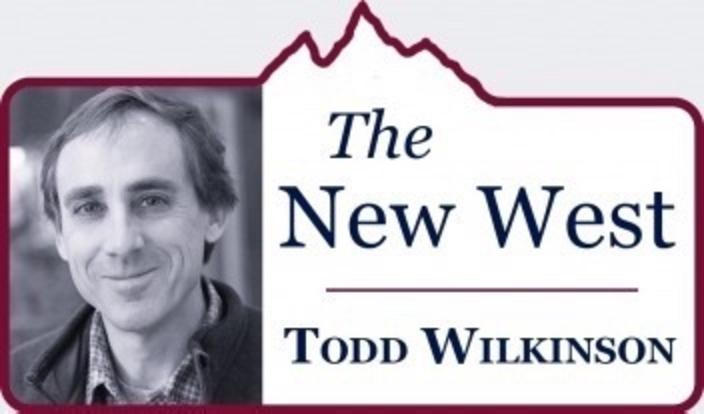 A lot of folks also have treated themselves to a sojourn at Chico Hot Springs before moseying into Livingston where Chatham for decades was a social fixture and held court at his signature restaurant.
Scores of residents throughout Greater Yellowstone own original Chatham oils and high-end lithographs, displaying them next to priceless works by French Impressionists and treasured western artists like Bierstadt, Moran, Rungius and Catlin. Some of the notable private collectors in the region and beyond include Robert Redford, Warren Beatty, Ted Turner, Jessica Lange, Margot Kidder, Jack Nicholson, Tom Brokaw, Jeff Bridges and Harrison Ford.
Chatham's artistic life force was his grandfather, the great California muralist Gottardo Piazzoni (1872-1945). A few years ago, Chatham moved back to his childhood homeland in northern California and recommenced painting where his extraordinary career with fishing and standing behind the easel began.
I once asked one of Chatham's closest friends William Randolph Hearst III to interpret Chatham. "You must understand that 'Russell The Personality' is a wholly separate character from the life of Russell Chatham the painter, though at the same time they are inseparable. No matter what he does, his adventure with it becomes larger than life," Hearst said.
"As good a painter as he is," Hearst added, "Russell's an equally wonderful storyteller and devoted friend, an absolutely superb fisherman who might be among the best on the planet, an intrepid restaurant owner, gourmet cook, wine aficionado, writer, boutique book publisher and general roustabout."
If any contemporary landscape painter qualified as a genuine rock star in the northern Rockies, it was Chatham, now a late septuagenarian.
Starting in the 1960s, he was among a group of artists who went to Paradise Valley to escape the rat race, to fish, and go about their own media adventures without being hassled.
Those figures included Chatham, writers Jim Harrison, Tom McGuane, the late William Hjortsberg, Richard Brautigan, actors Peter Fonda, Jeff Bridges, Kidder, Warren Oates, Nicholson, Dennis Quaid, Meg Ryan, Sam Waterston, singer Jimmy Buffett, director Sam Peckinpah and others.
Chatham's style of painting landscapes, known for its fleeting, muted, tonal bands of horizontal color, summons up moods of introspection rather than blushes of superficial sanguine cheeriness.
They evoke the feeling you get when you realize you are getting older and the sensation hits home when you take a good hard look at yourself in the mirror, thinking about the kind of life you've lead.
When I asked Chatham to ponder that feeling, he shared this thought: "Early on, I was never concerned about having a career, so I didn't have one. And now nothing could interest me less. But I think we all have a programmed tape running inside us, and most of mine is now stored on the right hand side of the cassette. I finally feel I know enough to paint what I could only dream about in my twenties. People say it's time to slow down, relax, go fishing. Well, I took the first forty years of my life off and went fishing, and now my tape is telling me to finish what I was put on earth to do. Before, time didn't matter. Now it does."
Given the times, he still feels compelled to act upon a conviction he stated earlier in his life about the role of artist: "The artist does not simply hold a mirror to society. If the world now is greedy, the artist must be generous. If there is war and hate, he must be peaceful and loving. If the world is insane, he must offer sanity, and if the world is becoming a void, he must fill it with his soul."
Chatham didn't say it, but one could add that the artist's challenge is really no different from the obligation of the viewer. If painting represents a near-religious experience for some, perhaps it's not a bad thing to act on those kindly impulses.
EDITOR'S NOTE: If it isn't obvious, Chatham loves water. Here are a few of his interpretations of some classic Western rivers.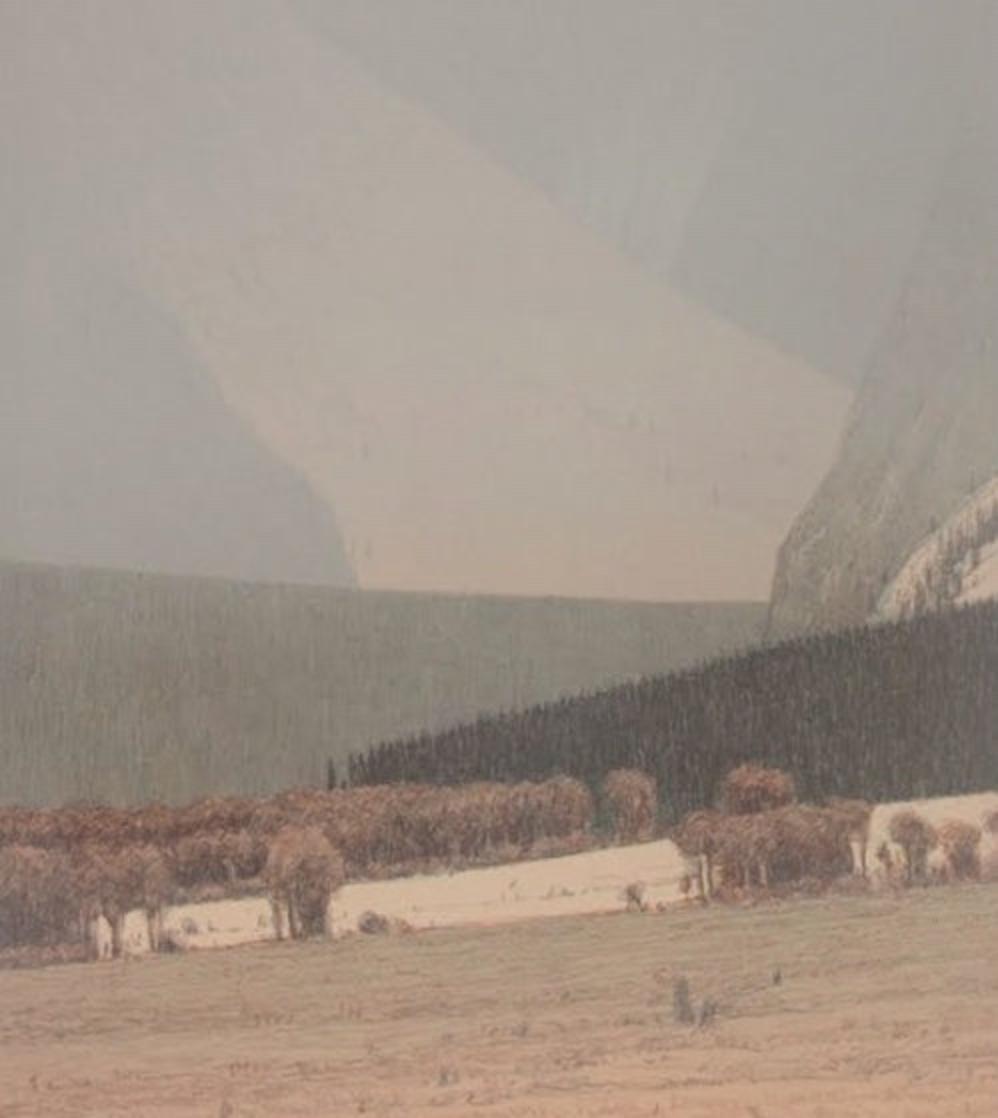 Winter On The South Fork Of Deep Creek, lithograph, by Russell Chatham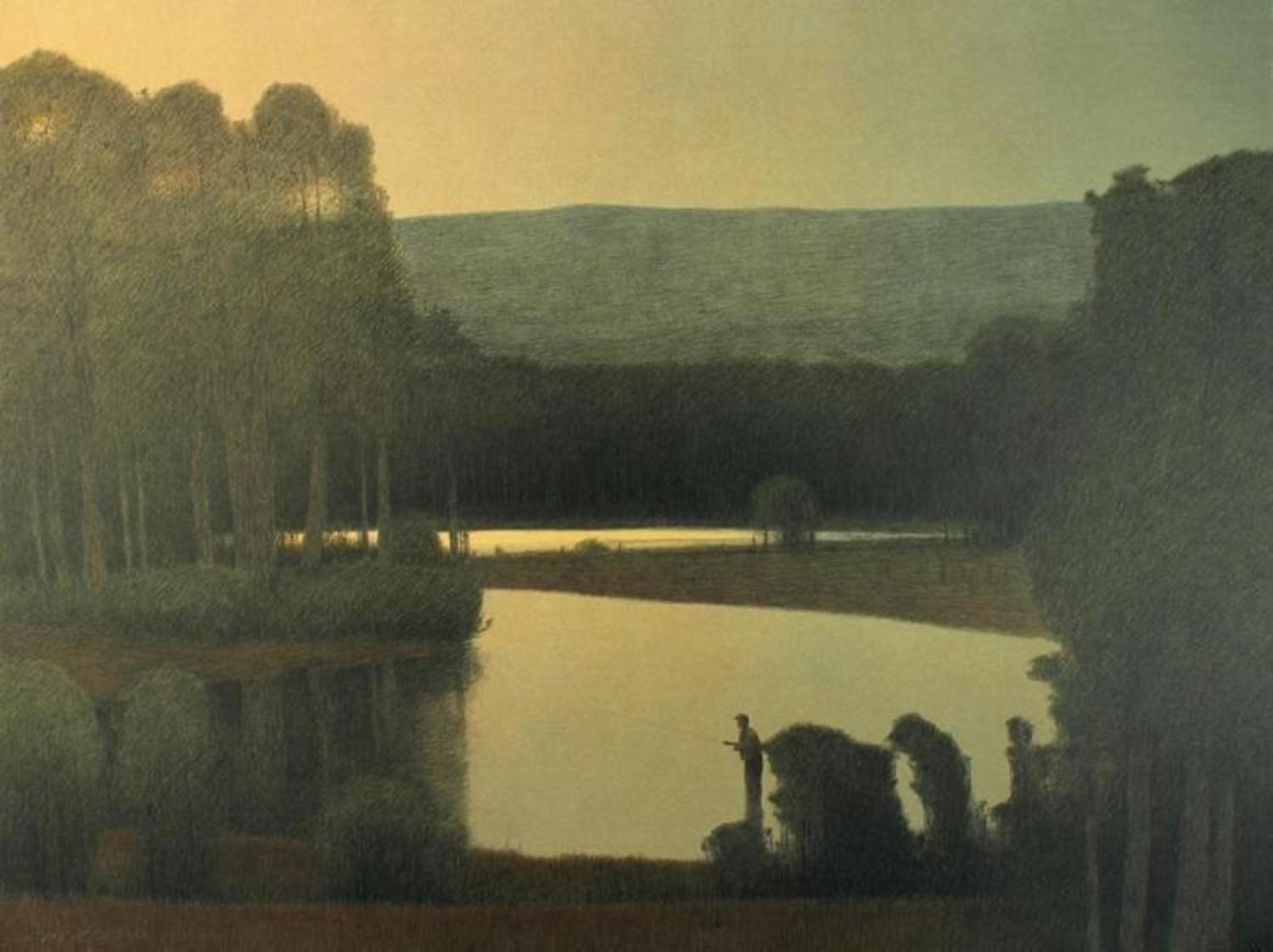 Summer Twilight, Colorado River, lithograph, by Russell Chatham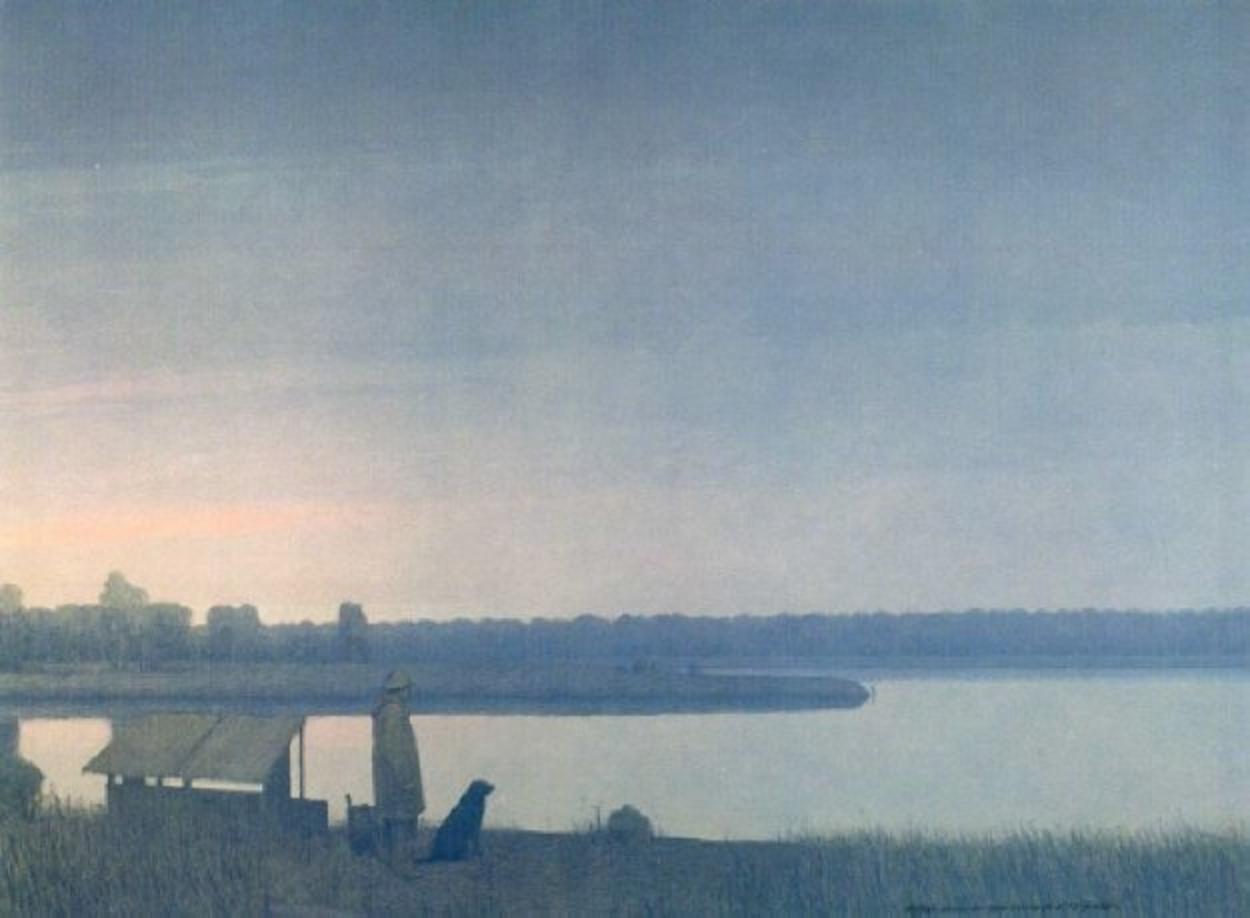 Winter Dawn On The South Platte River, lithograph, by Russell Chatham
~~~
ALTA Q&A
'You're an Artist. That's What You Do.'
PAIGE GREEN
Russell Chatham at his studio in Marin County, California. "I paint everything from memory," he says.
In what would be his final interview, the famed Marin County–based landscape painter Russell Chatham tells Alta publisher Will Hearst where he finds inspiration, what it's like to work on commission, and why Gauguin brought him to tears.
UPDATE: It was with sadness that we learned Russell Chatham passed away on November 10, 2019. This was his final interview.
Landscapes are notoriously easy to paint but exceedingly difficult to paint well. For Russell Chatham, the challenge was impossible to resist. There was no other way. Chatham is the grandson of San Francisco muralist Gottardo Piazzoni, and before he turned 20, he had found his calling in painting nature.
In a career that has spanned half a century, Chatham became famous for capturing Montana's rugged vistas and California's golden hillsides through an approach that seems to combine a muted, idealized reality and the stuff of dreams. His collectors include Hollywood names like Jessica Lange, Jack Nicholson, and Robert Redford. Along the way, he was married three times, and made a fortune from his paintings, book publishing, and running a restaurant—only to lose it all. Chatham steadfastly believed in following one's heart.
In what would be the artist's final interview, Alta editor and publisher Will Hearst sat down with Chatham as he reflected on the difficulties he endured as a young painter and how he's depended on the love and support of the women in his life. (Disclosure: Hearst is a collector of Chatham's paintings.)
WILL HEARST:As a little boy, did you think, "I like painting" or "This is what I want to do with my life"?
RUSSELL CHATHAM:When I was eight or nine, it was clear painting was a big deal to me, and so I did it on my own, and all through school I stayed at it relentlessly…through my teen years and through my 20s.
~~~~~~~~~~
.
The Inspiration for Alta
Publisher Will Hearst credits the late painter Russell Chatham with helping shape the Western sensibility that inspires Alta.

BY WILL HEARST
JAN 8, 2020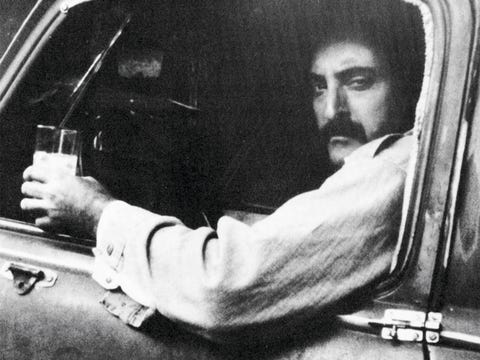 Russell Chatham, 1939—2019
One by one they were all becoming shades. Better pass boldly into that other world, in the full glory of some passion, than fade and wither dismally with age.
—James Joyce, "The Dead"
The October issue of Alta featured painter Russell Chatham in what would become his final interview: "You're an Artist. That's What You Do." Sadly, Russ died a few weeks after the edition came out. With his passing, we have promoted him on our masthead from our Editorial Board to a position on the Our Inspiration roll. This list recognizes people who have shaped the arts, culture, and life of the West, and whose contributions help guide our editorial ambitions.
The western sensibility is like the Grand Canyon, built up layer by layer from those who came before us. For instance, the Native Americans who settled here thousands of years before any Europeans arrived left a legacy of many languages and cultures, a respect for the natural world, and a recognition that we all depend on the health of the earth and sea for our own health.
Those values have endured even as they have been layered over by generations of newcomers. We have not always been respectful of our ancestors and predecessors, but each has left a mark, a sign, a framework for the future.
Russ Chatham lived and traveled across many western geographies, from Bolinas, California, to Livingston, Montana, and many points north and south. He was no stranger to fishing in mountain streams or to boulevarding in Hollywood. Yet he always painted landscapes of the West as if he were seeing them for the first time.
As much as anybody, Russ was also a founder of Alta. He was a fierce advocate for making art, producing a series of beautifully crafted books and even making his restaurant in Livingston a place of original ideas and fresh catch.
I remember one time a group of us were on a long camping trip. A woman asked him what advice he could offer to her daughter, who was interested in becoming an artist.
The main point of his answer was that she should not expect vast wealth or fame. The daughter would likely find projects, clients, and opportunities that could pay the bills. But the foremost benefit of such a life was that she could always say "no." The freedom to follow your own path was the major reward, he believed, for any aspiring artist.
"The artistic life doesn't pay well enough to do things you don't believe in," Russ said. And he lived his life that way. He had many clients, and money passed through his hands on a regular basis. But not much stayed in his bank account. Russ remained free to paint what he wanted. To be a close friend and an inspiration to his family, friends, and lovers. To create, to perfect his craft, to speak his mind, and to follow his heart.
We have lost the painter, but his spirit and his work will long endure.