A DEVELOPER'S PROPOSAL TO BUILD A 'GLAMPGROUND' ON THE BANKS OF THE FAMOUS GALLATIN RIVER STOKES CONTROVERSY AND CALLS MESSAGING USED BY AMERICAN CONSERVATION GROUPS ABOUT RECREATION INTO QUESTION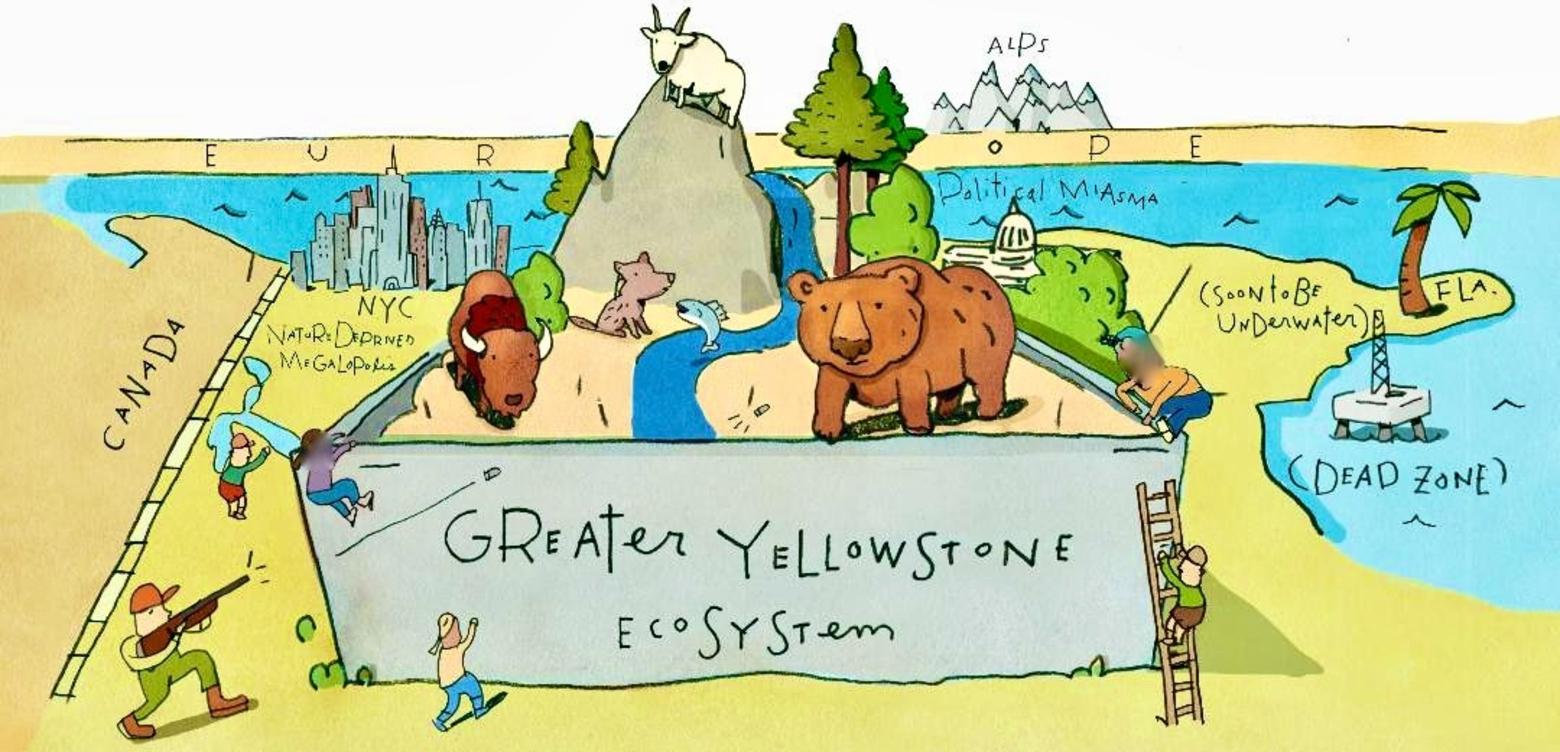 Looking east at the Lower 48 from the vantage of the Greater Yellowstone Ecosystem. Illustration by Rick Peterson. See more of his work at: http://www.linkedin.com/in/rick-peterson-mpls 
EDITOR'S NOTE: This is part of Mountain Journal's ongoing series, "Enough," that explores the intersection between humans, development and still-wild Nature and the role of limits in saving it from destruction. This installment focuses, that has several sections, focuses on the claim that outdoor recreation equals better wildlife conservation.
Outdoor Recreation and Wildlife Conservation
Section 1: Can We Play Our Way To Better Protecting The Last Best Wild Ecosystem in the Lower 48?
by Todd Wilkinson
Few of us, it's safe to say, ever set out with intentions of bringing harm to Mother Nature, particularly when our actions involve participating in forms of outdoor recreation that make us feel good, more alive, inspired and even blessed to be in places that still qualify as "wild."
There are no bioregions left in the American Lower 48, except for this one, that possess the kind of "wild" Greater Yellowstone does; where, on a single late summer's evening, within the same general proximity, we can hear wild wolves howl, loons trilling and elk bugling, watch free-ranging bison wallow and bellow, have a good chance of spotting a grizzly bear mother with cubs ambling, cast for wild native trout, and soak in a sense of solitude that could cause us to forget what year it is.
It's what we do en masse, collectively, as a species with an insatiable desire to claim more terrain as our own, figuratively and in fee title, that adds up. The toll, and the veracity of this statement, are indelibly written on human-dominated lands around the world where there is an absence or dwindling diversity of native wildlife. If you are reading these words from outside the Greater Yellowstone Ecosystem in a city, suburb or an exurb that is in transition to become suburbanized, ask yourself why so many of the original native large mammal species are no longer present, and why most will never return in a foreseeable time frame.
In the Greater Yellowstone Ecosystem, a key reflection must be on understanding why wildness is still here, anticipating how long it might endure considering current trends, and making the public more aware about the things that cause de-wilding. 
At the end of the 20th century, as Greater Yellowstone and other mountain regions in the Rockies transitioned away from logging, boom-and-bust hardrock mining, and livestock grazing that resulted in erasure of many native species, the emerging prevailing belief was that nurturing outdoor recreation economies represented better, benign alternatives to resource extraction of old.
In recent years, many mainstream conservation organizations that previously—and still do— cut their teeth trying to halt clearcutting of old-growth forests and permitting of new mines on public lands, in part to protect wildlife and its habitat, forged an alliance with the outdoor recreation industry and together they advanced three basic arguments many accept today as fact.
The assertions go something like this:
1. Outdoor recreation equals moreconservation.
2. Greater access for human user groups to public lands by itself translates into many more positive conservation outcomes.
3. When recreation happens in landscapes vital to the survival of certain species it improves public support for conservation of those species inside the landscapes those species inhabit.
Logically, we might wonder: how does that work? How does putting more humans into spaces populated by sensitive species better the survival prospects for animals actually living there?
Here in America's most iconic wildlife-rich ecosystem, a good place to start with addressing the questions is defining what "conservation" means. Let's begin with this: what is actually being protected or conserved under the banner of conservation in Greater Yellowstone if "wildlife conservation" is not given main emphasis? On private ground, for instance, we often talk about "open space protection" but what if the farm and ranch lands being protected lie in the middle of a subdivision and while there's still a pretty view, most of the large native wildlife species are gone?
A corollary conservation question involving public land would be: should creating more habitat for we humans to play on public land, in a region like Greater Yellowstone, be as important a priority as protecting habitat for non-humans whose options for population persistence in the decades ahead are likely to be shrinking?
° ° ° °
A few years ago, Pulitzer Prize-winning novelist Richard Ford gave a lecture at Museum of the Rockies in Bozeman, Montana. He spoke of things people repeat over and over again that just aren't true but nonetheless become part of the accepted lexicon and then are embraced as fact. Things such as all growth is good or that living the American dream is easy to achieve equally for everyone.
It can be argued that "recreation equals wildlife conservation" qualifies as one of those tropes, when in truth, both studies and scientific experts say, it is just the opposite—that intense levels of recreation, more trails and expanded public access have, repeatedly, been demonstrated to show negative impacts on native wildlife ("weedy" species that become easily habituated to humans like white-tailed deer, coyotes, raccoons and rodents excepted).
The premise of "recreation equals conservation" has been spoken so often, seldom challenged, and it seems so compelling, at least superficially, that recently developers of a controversial "glamping resort" called River Bend Glamping Getaway proposed for construction along the banks of the Gallatin River west of Bozeman borrowed the rhetoric.
The Gallatin River, for those who might not be aware, is a revered Western trout stream that begins in Yellowstone National Park and courses northward as one of three rivers that converge near Three Forks, Montana and create the Missouri River. The Gallatin was featured dreamily as a backdrop for the movie poster of Robert Redford's film depiction of A River Runs Through It.
In a full-page ad taken out in the Bozeman Daily Chronicle on Feb. 9, 2022, River Bend developers, obviously heeding the advice of clever PR mavens, declared in bold letters that "Recreation Encourages Conservation" as a slogan intended to win the development approval from the Gallatin County Commission. At the bottom of the ad, there was an added tagline: "Tourists visit Montana to experience our natural beauty. And to ensure it endures we introduce them to stewardship."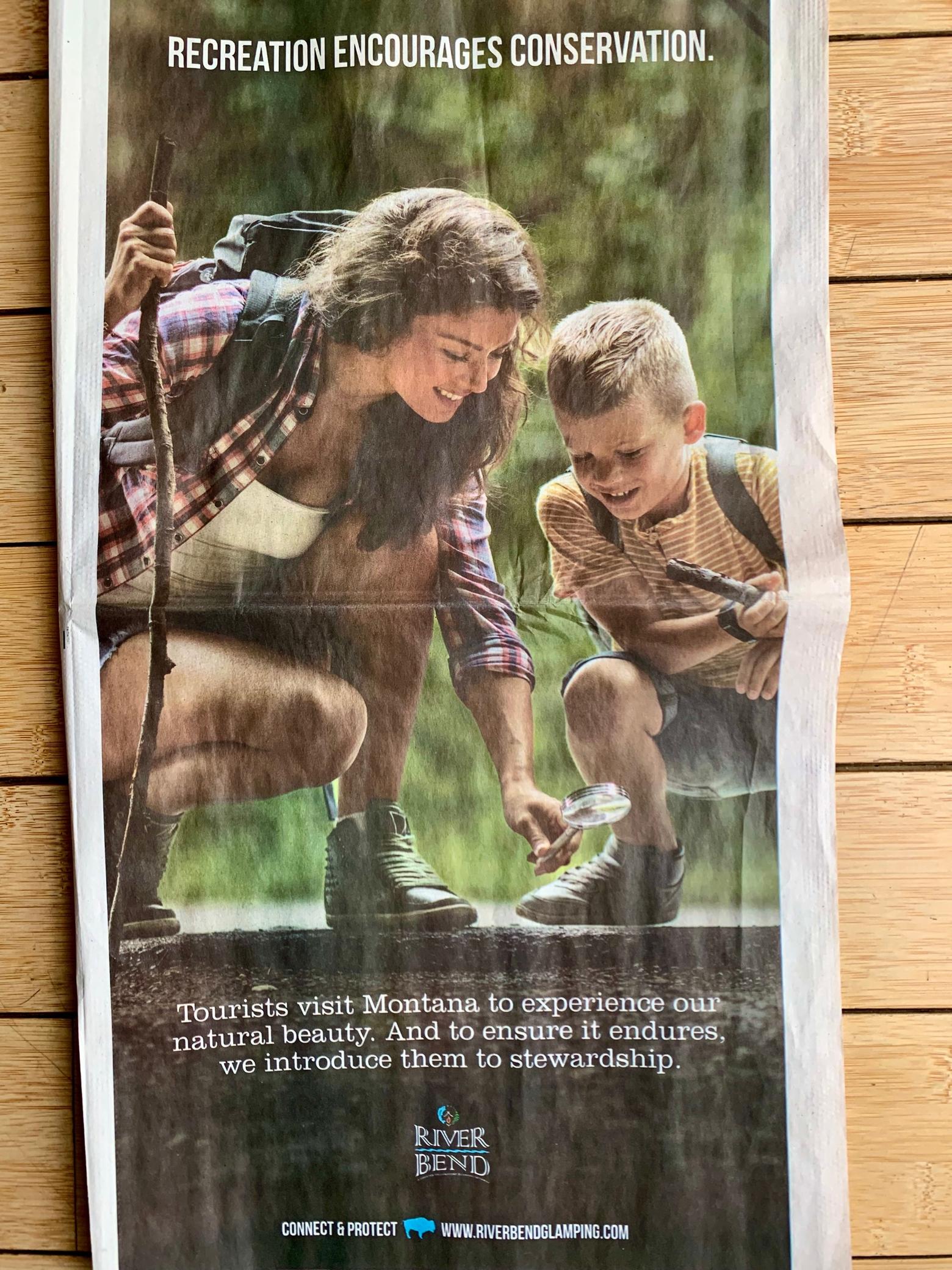 A photograph of the full-page ad which ran in the Bozeman Daily Chronicle and was paid for by developers of the proposed River Bend Glamping Getaway for the banks of the famous Gallatin River west of Bozeman.
Besides incongruities of logic in that last sentence and in several subsequent River Bend ads that have appeared over a succession of weeks, an intelligent person might find some of the contentions to be dubious. Yet many people residing in the Greater Yellowstone region and millions more who visit it may adopt the slogans as fact. So again, is the contention that recreation and development bolsters conservation true?
Last year Yellowstone National Park notched nearly five million tourist/recreation visits— since the new millennium began tens of millions of them. Parts of the Greater Yellowstone region have been inundated with newcomers, more development and recreation-minded visitors as never before during the Covid pandemic. Do we now have more mass appreciation for the conservation of Nature? What's the evidence? If so, how it is being expressed? Have those numbers of people translated into a citizen groundswell rising to meet the growing threats to wildness?
In the case of River Bend, how does attracting tourists interested in having glamorous camping experiences by staying in Conestoga wagons and faux-rustic cabins inside the corridor of a vaunted American trout stream materially benefit the Gallatin River, engender more appreciation for natural beauty and advance conservation of water quality and species in the river? How will this resort, as the newspaper ad implies, create better, more enlightened human stewards of Nature?
Critics of the ads call them a mockery of common sense and an insult to the spirit of real stewardship, as well as a symbol of how we all are thoughtlessly loving Nature to death. I often return to a perspective offered to me by Yellowstone National Park's former science chief, David Hallac, who elaborated on his worries when I was writing a story about threats to the Yellowstone region that appeared in National Geographic. Hallac warned that the natural fabric of the ecosystem is not just facing death by 1,000 cuts from large threats, but steady deterioration or death by 10,000 scratches that seem imperceptible but as an accumulation are eroding the essence of wildness. Outdoor recreation, a growing number of scientists say, is bringing its own form of lacerating effects. While outdoor recreation is diffuse, and its impacts are less obvious than, say, a gold mine, it has serious additive consequences to wildlife when considered within the context of many different things happening at once.
In order to fully appreciate why the messaging of River Bend is attracting public outrage, it would be instructive for readers to visit its website and assess for themselves see how developers are using rhetoric to portray its project as Shangri-la.
River Bend proclaims in its marketing: "'Eco' is more than a word to us. We're humbled to steward a small part of the Gallatin River, and we're committed to having minimal impact on the river and all of our natural surroundings."
Apparently, stewarding part of the Gallatin and being committed to minimal impact involves siting part of a new proposed development in the flood plain, inviting thousands of tourist guests into the riparian area which is guaranteed to displace wildlife, and running gas and wastewater pipes beneath the river.
Yet River Bend isn't alone. A similar kind of alleged "stewardship" messaging is flowing out of development and real estate offices, chambers of commerces, state tourism, outdoor recreation and governors' offices spending millions of dollars to promote more recreation and recreational development—even as some trailheads and river stretches are brimming with people.
These entities are not alone. Notably, similar rhetoric has been streaming out of the offices of some conservation and environmental groups in Greater Yellowstone, too. If the swelling numbers of humans now using public lands is any gauge, then the messaging of all of the above, in encouraging people to visit public lands, has succeeded beyond anyone's wildest imagination, inspiring record numbers of people to recreate, move to Greater Yellowstone or build dream vacation homes often in the middle of wildlife habitat.
Congratulations. Mission accomplished.
But now what? Where do we go from here? Will the blind promotion continue? What are the limits for how much pressure Greater Yellowstone's wildlife can take? When is enough enough and will conservation organizations take the lead in helping the public, land management agencies, and developers realize what the threshold of enough is?
Ironically, a few of the conservation groups and other entities often promoting differing iterations of "recreation is conservation"— as River Bend is now doing—have filed an appeal to stop the proposed glamping resort, arguing that this recreation development will harm the very wild essence of the Gallatin River. That real conservation is leaving the river alone. The appellants are Upper Missouri River Waterkeeper, national, state and local chapters of Trout Unlimited, Protect the Gallatin River, American Rivers and the Greater Yellowstone Coalition. Others who stand opposed are Simms Fishing, Fishing Outfitters Association of Montana and many local citizens.
Worth mentioning is that very few of Bozeman's conservation organizations have gotten seriously involved in planning and zoning issues, pushing to prevent residential and other forms of commercial development from invading river corridors and crucial wildlife habitat on private land. How is River Bend worse than all of the sprawl being permitted on a regular basis but unchallenged by conservationists? How is the lone impact of River Bend worse than the total volume of impacts being registered by outdoor recreation—the full extent of which will be examined in future parts of this series.