.
This is the latest premium content from the Land Desk, for paid subscribers, only. Have I told you you're the best? Well, you are. And I really appreciate your support. The Land Desk would be nowhere without you!
---
To kick things off on this grim day (scroll to the last item for the grimmest piece) let's look at some, well, kind of grim maps. The first one is this crazily specific wildfire (and flood) risk mapping tool put out by the nonprofit First Street Foundation. Just enter your address and voila! It will tell you what your "risk factor" is (1-10, minimal to extreme); how that factor is likely to change in 30 years; the likely intensity of a wildfire on your property; and will even tell you about the vulnerability of your home (or one you're thinking of buying — the tool has been incorporated into some real estate websites).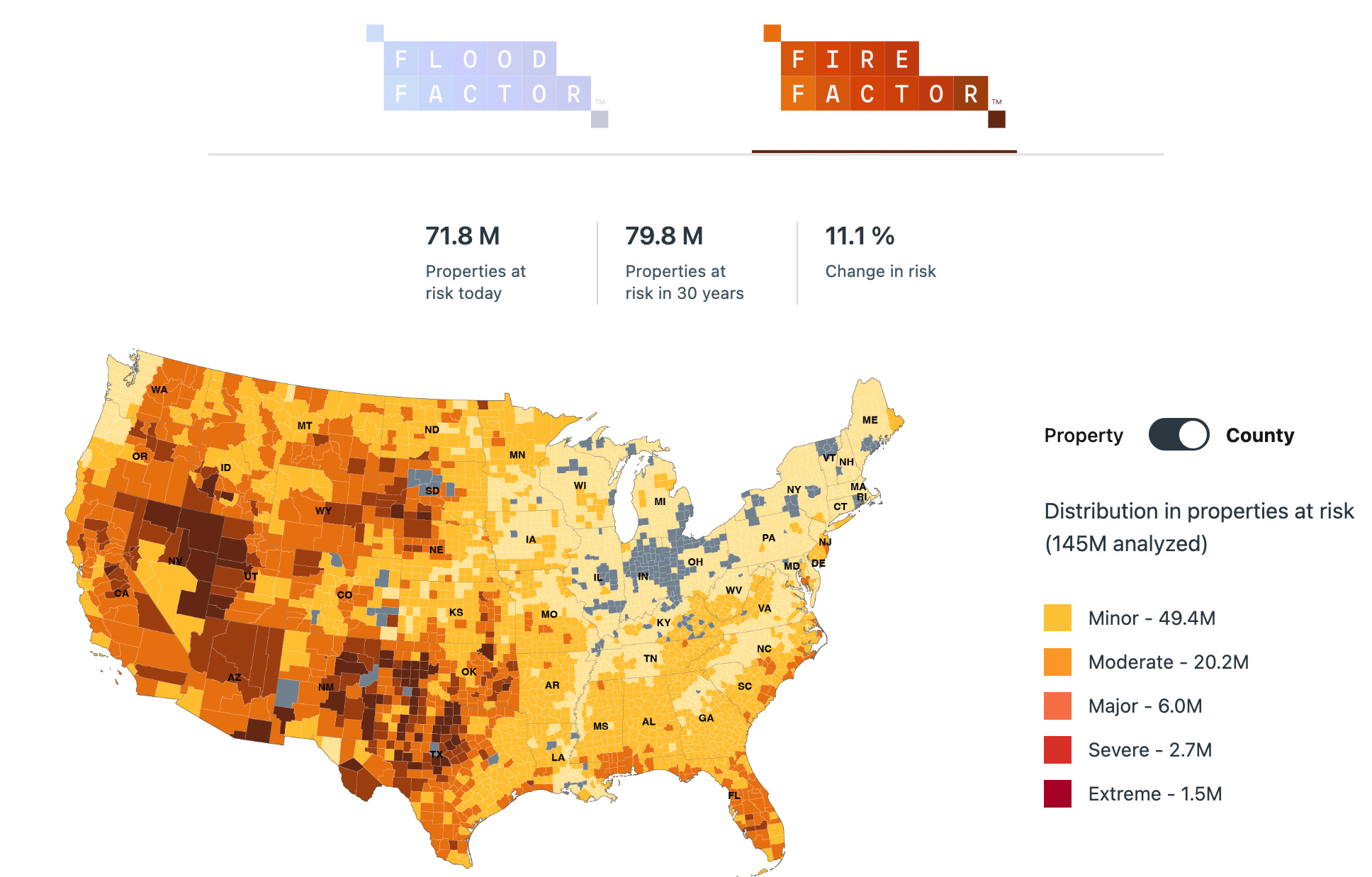 I decided to test it out. I entered the address of a home in the wildland urban interface on Durango, Colorado's, western edge which is under a wildfire pre-evacuation order as I write this. That home (with a Zillow estimated sale price of $2.2 million) has a wildfire risk of 6/10, making it "major;" it has a 14% chance of being in a wildfire in the next 30 years; and the building material and roof type are "high risk." Sounds about right. The "Historic Fires" function didn't work quite as well, showing just one fire that had burned nearby in the last decade or so.
Next I entered an address of a building in Montezuma, New Mexico, which is in the Hermits Peak Fire burn area. It got a 10/10 "extreme" risk rating; it has a 74% chance of burning in the next 30 years; the average flame height of a wildfire would be about 6 feet.
It's all pretty cool to play with, especially for a map junkie like me. I am curious to see how it's used. Will homeowners take steps to "harden" their property against wildfire based on what the tool tells them? Will hopeful homebuyers shy away from extreme risk properties? Will property values drop in places that are likely to burn in the next decade?
---
Along somewhat similar lines, Earthworks and FracTracker Alliance have released a new "Oil and Gas Threat Map," showing the location of every oil and gas facility in the U.S. They then drew a half mile radius blob around each of them, indicating the area in which research shows oil and gas pollution can be detected at concerning levels (dependent upon the facility, of course). The map's creators then quantified the number of people within those threat zones. A couple of their findings:
17.3 million: Number of people who live within the threat radius in the U.S.;
5.7 million: Number in threat zones who are people of color;
12,445: Number of schools and daycares within the threat radius;
170,000: Number of Weld County, Colorado, residents within the threat radius;
12,763: Number of oil and gas wells, natural gas compressor stations, and processing plants in San Juan County, New Mexico.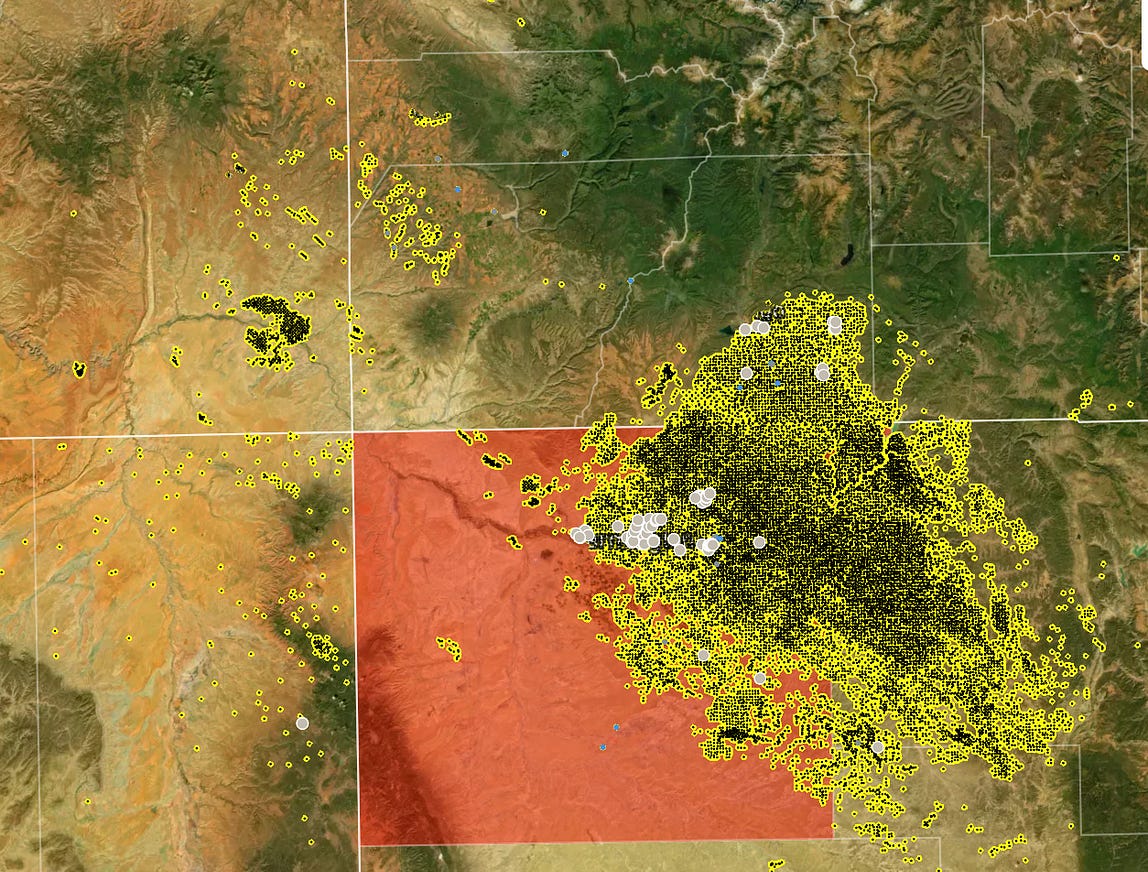 The map also allows you to click on the oil and gas facility and see its name and operator. The only problem with it is that in places like the San Juan Basin in northwestern New Mexico and southwestern Colorado, the oil and gas facilities are so pervasive that there are hardly any land, houses, schools, or anything else that don't fall within the threat zone. The cities of Farmington, Aztec, and Bloomfield have all been consumed by the yellow threat zone blob; the same goes for Durango's southeastern suburbs, including all of Three Springs.
This is worrisome because oil and gas wells tend to leak methane, which is a potent greenhouse gas and can build up and explode; benzene, a carcinogen; hydrogen sulfide, which is lethal at high concentrations; and volatile organic compounds which are health hazards. Over in California, for example, regulators — tipped off by environmentalists — discovered some seriously big methane leaks at orphaned wells near Bakersfield residential neighborhoods.
Take a look and see how threatened your community is.
---
As long as we're doing the map thing, here's one showing what we're seeing play out on the ground this spring: The snow is melting earlier than it once did. Runoff's already peaked and the snowmelt virtually vanished in the Southwestern Colorado high country, weeks earlier than "normal," whatever that means.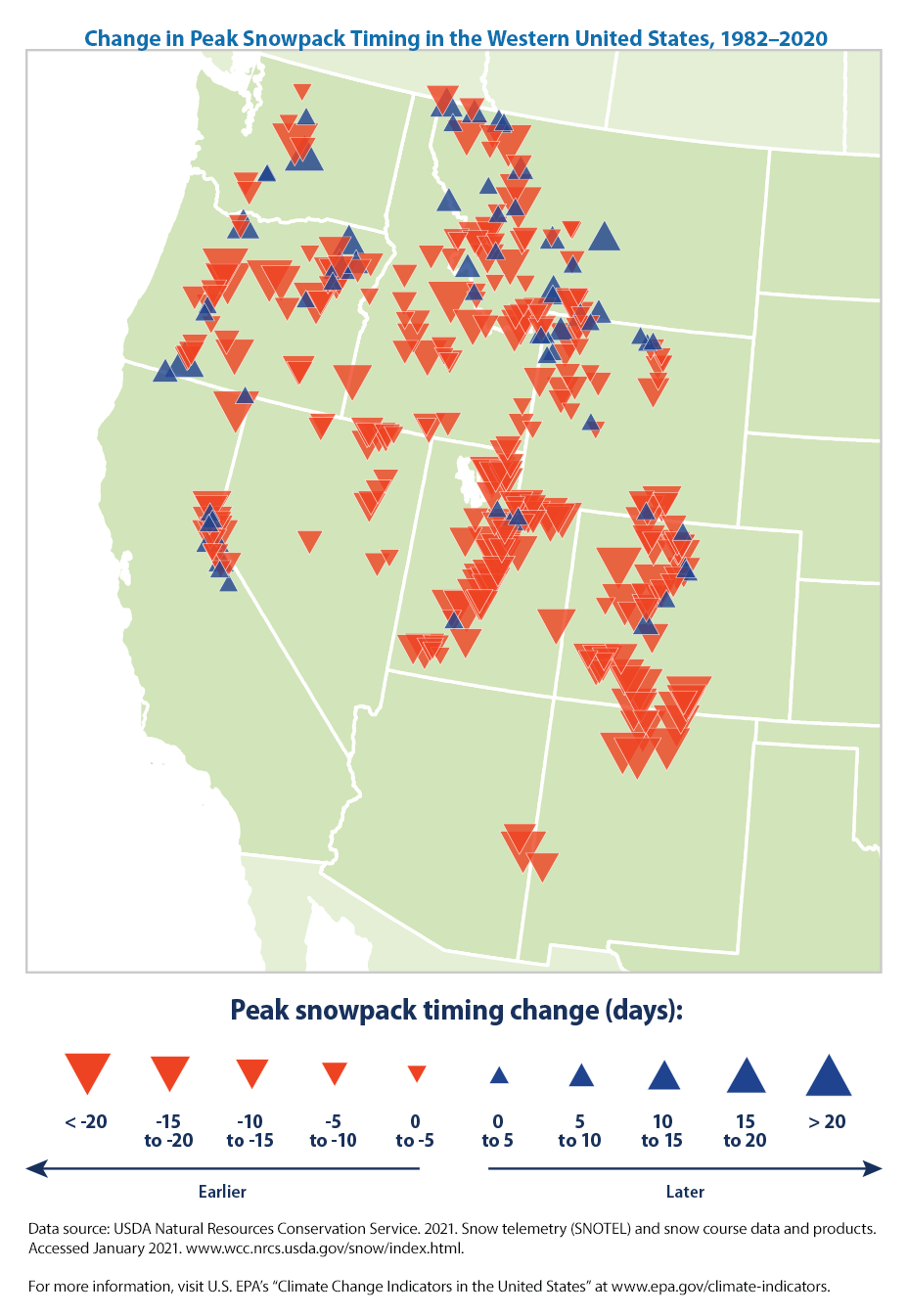 And here's what an early spring runoff peak looks like: The river looks pretty healthy in mid-May, given that levels are way above the median. But then the snow vanishes and bammo, levels plummet quickly. Could be a bottom-scraping summer for river rafters.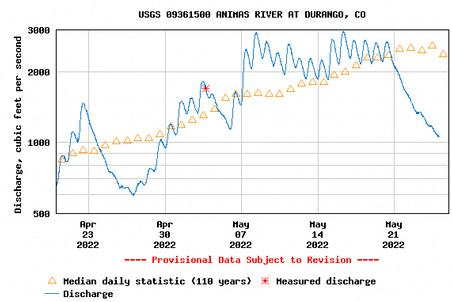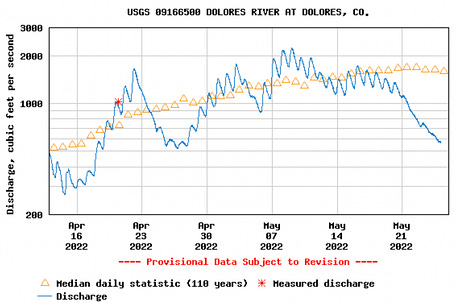 ---