Southwestern cities shrink their water footprint even as they grow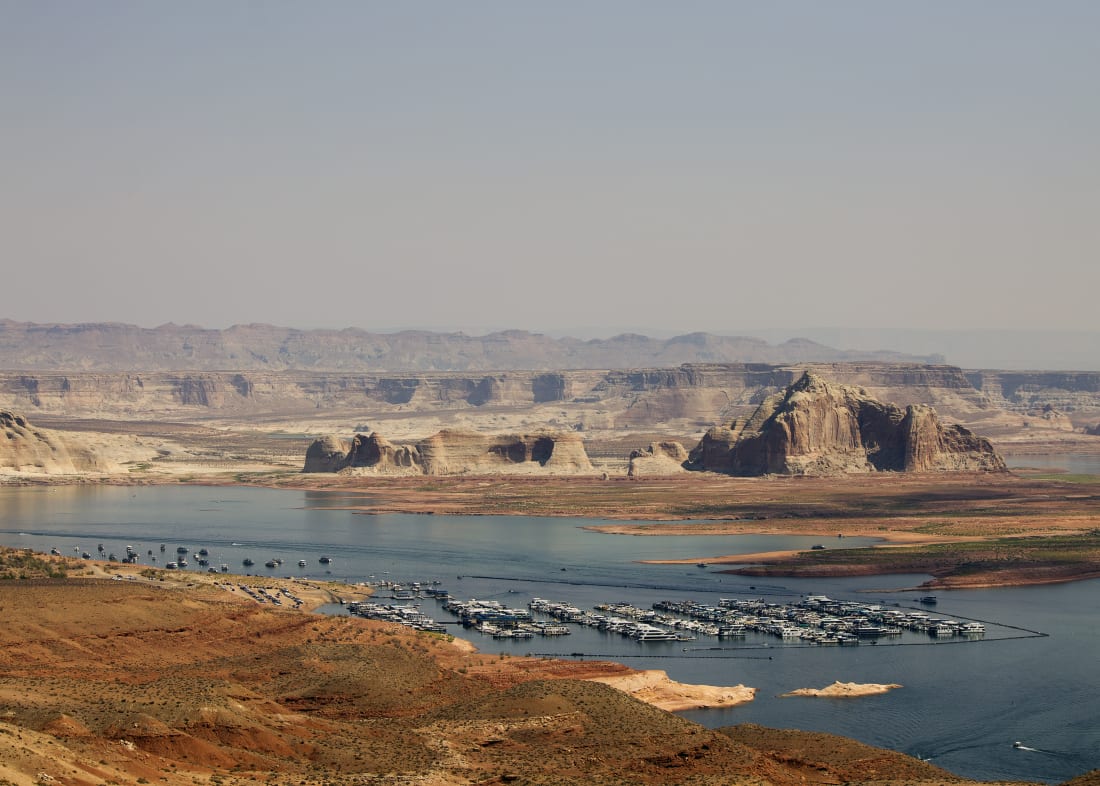 When we think about the Colorado River water shortage, it's natural to blame it on the burgeoning population in desert cities like Phoenix and Las Vegas and Los Angeles. Too many people are sucking up too much water to keep their lawns green and their swimming pools full. And as more people move to these cities, their overall water consumption increases proportionally, putting more and more strain on the Colorado River system.
This pattern held true for eight decades after the 1922 signing of the Colorado River Compact: The number of people relying on the river's waters shot up from less than 1 million to nearly 40 million, and overall water consumption climbed consistently as well, peaking at just under 20 billion cubic meters in 2000.
But then, according to a new study in the Journal of Water Resources Planning and Management by Brian Richter, the pattern was broken. Even as the population of the region continued to shoot up, consumption of Colorado River water actually dropped and then plateaued. That is to say, water use and population growth were decoupled.
Although the finding is counterintuitive, it won't come as a surprise to those who have been paying close attention to the Colorado River. The crisis that has manifested over the past 20 years is rooted not in a constantly growing population, but in an already overtaxed river diminished by the most severe drought to hit the region in the last 1,800 years.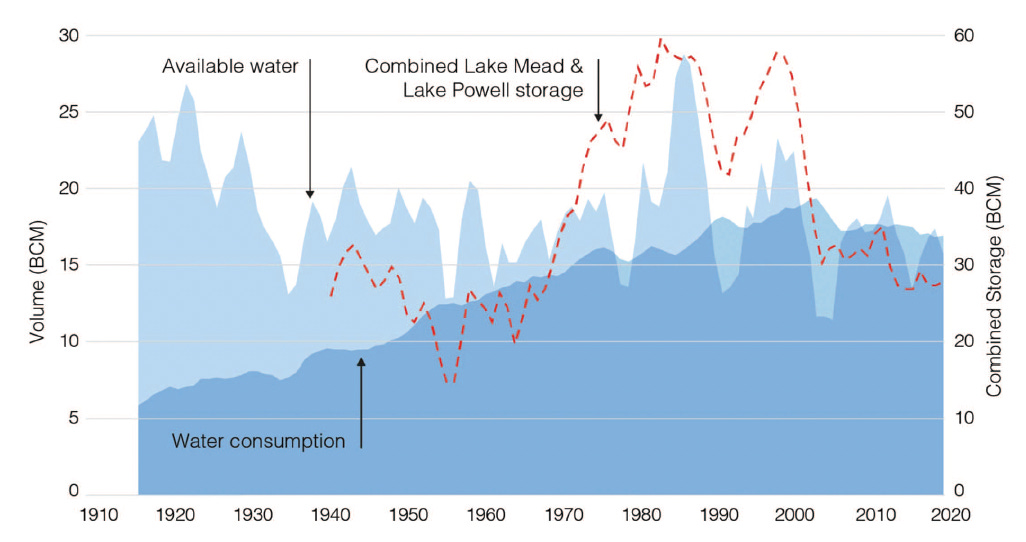 Richter's study not only confirms that, but it also shows how, when faced with hard limits, we can reduce consumption and work toward more sustainable systems without compromising quality of life.
Richter evaluated water use by 28 municipal utilities that collectively serve about 23 million people. More than half of them had reduced per capita water use enough to decrease total water deliveries by 18%, even as their populations grew by 24%. Albuquerque, Fort Collins, Phoenix, Los Angeles, and San Diego followed the trend. Perhaps the most impressive was the least expected: The Las Vegas metro area added nearly 1 million residents between 2000 and 2020, yet total water deliveries dropped by more than 40 million cubic meters, or 10%, during that same time. In other words, the land of conspicuous overconsumption cut per capita water consumption in half.
So does this mean that Las Vegans are suffering from perpetual dehydration? Have the golf courses turned to sand? Have the Bellagio fountains gone dry? Nope, (at least not yet). I'd bet most Las Vegans don't even notice the difference in their own collective water use, though they might have sensed the gradual disappearance of ornamental turf around the city. Same goes for the other cities with big savings.
That's because they are realizing these consumption cuts not by rationing water, but by implementing system-wide efficiencies and incentives. New ornamental turf is banned in many of these places, for example, but folks are paid to remove the existing stuff. Same goes for switching to more efficient appliances. Most Las Vegas golf courses are irrigated with treated wastewater and a high-tech, vigilant leak detection and repair program saves hundreds of millions of gallons of water per year. The oil and gas industry ought to hire the Las Vegas leak police to deal with their methane problem.
One of the reasons Las Vegas and other cities were able to make such big gains is because there was so much waste in the system to begin with. Many of the low-hanging fruit have been plucked, but some still remain: Las Vegas' top residential water users — ultra-wealthy mansion owners — still use tens of thousands of gallons of water per day; water pricing structures are not adequately progressive; and Nevada's accounting system for Colorado River use disincentivizes indoor water conservation¹.
1.3 million gallons: Daily water use by the Venetian Casino Resort in Las Vegas, the metro's largest commercial user.
35,646 gallons: Daily water use by Trophy Hills Residence, LLC, the Las Vegas mansion owned by the late Sheldon Adelson.
25,682 gallons: Daily water use by Via Tivoli LLC, the 75,000 square foot Henderson, Nevada, mansion owned by EBay founder Pierre Omidyar.
112 gallons: Average total daily per capita water use in Las Vegas (includes residential, commercial, industrial).
30 million gallons: Daily water loss to evaporation at Lake Powell in July.
So even Las Vegas still has ample room for cuts. Meanwhile, some cities remain ridiculously wasteful — we're looking at you, Farmington and St. George and Scottsdale. The good news is that if these smaller cities follow the larger metros' lead, they could realize significant cuts. The bad news is that it still won't be nearly enough to save the Colorado River system on which so many of us depend.
And even if population and water consumption have been partially decoupled, they aren't completely divorced. Las Vegas and Phoenix and L.A. eventually will hit a limit of per capita cuts, at which point a growing population will again cause overall consumption to increase. Thing is, there is no extra water in the system to sustain it, and the old practice of cities "buying and drying" farms and transferring the water rights to new housing development is untenable. Any agricultural water saved through efficiency or fallowing or crop-changes must go back to the river, not to new subdivisions.
For the last century, the Southwestern Growth Machine — fueled by greed, cheap and dirty power, and the mirage of abundant water — has churned away relentlessly. Now it's time to shut it down and to practice not only water consumption-control, but also growth control — decoupling or not.

---
As long as we're looking at studies, another interesting one looking at spring heat waves just came out in Environmental Research Letters.
Think back, if you can, to the winter of 2020-2021. It was mediocre, at best, but it also didn't seem dismal: The slopes were adequately covered with snow, the nordic skiing was super-fast, avalanches were killing people at record rates, and in March the mountain SNOTEL stations generally showed just-below-normal snowpack.
So it seemed kind of strange when May and June rolled around and spring runoff was pathetically low, irrigation ditches were already being shut down for lack of water, and hordes of grasshoppers were invading what crops had managed to sprout from the desiccated land. It would turn out to be one of the worst growing seasons on record in Southwestern Colorado.
So how did a below-average winter lead to a horrendously dry summer? A spring heat wave, that's how. In Spring heat waves drive record western United States snow melt in 2021, researchers Daniel McEvoy and Benjamin J. Hatchett chronicle the "alarming rate" at which mountain snowpack from the Sierras to the Cascades to the Rockies melted during dual heat spells in April 2021.
We find that ripening of the snowpack by both record high surface solar radiation and air temperatures were factors in driving the rapid snow melt. Equatorial Pacific sea surface temperatures and the La Niña pattern that peaked in winter along with an eastward propagating and intensifying Madden–Julian Oscillation were likely responsible for driving the placement, strength, and progression of the north Pacific Ridge.
Here's hoping that 2021 was a one-off and that this winter's healthy snowpack, so far, will hold into April and May and provide an abundant runoff like in days of old. But maybe don't get too excited: We are in the third consecutive La Niña winter, meaning we could see a repeat.
The Land Desk is a reader-supported publication, meaning you make it possible. There are no advertisements, no fancy foundations footing the bill, no grant money, and no paid product placements — (though we are open to ice cream sponsorships). So if you'd like to get all the posts, access all the bounty of the archives, and support these dispatches, please consider upgrading to paid subscriber status or, even better, Sustaining Member. Thank you!
Nevada was allotted just 300,000 acre feet of water from the Colorado River, nearly all of which is pulled out of Lake Mead by the Southern Nevada Water Authority for use in the Las Vegas metro area. It is credited for returning treated wastewater to Lake Mead via Las Vegas Wash, allowing it to withdrawal, say, 350,000 acre feet so long as it returns at least 50,000 acre feet of treated effluent. For that reason, more hardcore conservation measures such as reusing greywater to irrigate landscaping are generally frowned upon.