.
The actor-director's follow-up to Easy Rider was going to change Hollywood. That is, if he could get the damn thing made.
BY JOSH KARP
OCT 1, 2018
Courtesy of Areblos Films
Henry Fonda wasn't holding back. Not even a little.
It was October 1970, and the 65-year old Hollywood legend had recently watched his son Peter on The David Frost Show.
Peter wasn't the problem. Fonda's son had come out, shaken Frost's hand, and taken his seat—like a goddamn normal person. No, the thing raising Fonda's blood pressure was what happened next, when Peter's friend, Dennis Hopper came on stage.
"Dennis came out floating," Fonda later told a New York Times reporter. He demonstrated what he meant by flouncing about the living room of his Manhattan apartment with arms spread wide and head tossed backwards. "And every time Frost asked him a question, he began giggling… Dennis is stoned out of his mind. He'd have to be to act that way."
"Put that in your story," Fonda told the reporter. 'This is not off the record. Dennis Hopper is an idiot. Spell that name right D-e-n-n-i-s H-o-p-p-e-r!"
Reached at his home in Taos, New Mexico, Hopper laughed when told about Fonda's rant. "Henry Fonda said I was an idiot?" Hopper said. "Well, I guess it goes to show you what the establishment view of me is."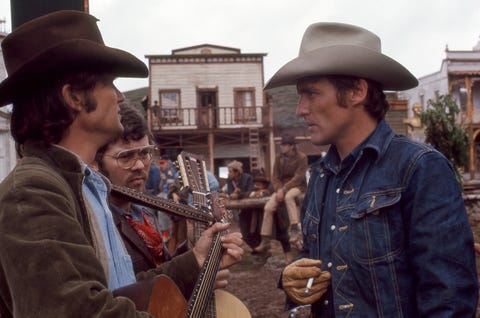 Courtesy of Areblos Films
Hopper could afford to be amused. After years of being regarded by much of the old guard as an ill-mannered, drug-addled lunatic, he was now possibly the hottest filmmaker in Hollywood. Easy Rider, which Hopper had made for less than half a million dollars, was the surprise smash of 1969, grossing $60 million and seemingly striking a death blow to the studio system that nourished the elder Fonda.
Hopper's overnight transformation from unemployable fuckup to Wellesian genius was made exponentially more aggravating when Universal gave him total control over his next picture, on which he was currently in post-production: The Last Movie, which Hopper wrote, directed, starred in, and edited. He declared it "the first American art film."
Hopper was keenly aware that the project would determine the course of his future, as he told the endless stream of reporters who visited him on the film's set. "The Last Movie is the big one," he told one writer. "If I foul up now, they'll say Easy Rider was a fluke. But, I've got to take chances to do what I want."
And, true to his word, that's exactly what he did.
---
HOLLYWOOD, 1965-1969
The idea for The Last Movie came to Hopper in 1965 at a wrap party for the John Wayne film The Sons of Katie Elder in Durango, Mexico, a popular location for Hollywood westerns.
Katie Elder was Hopper's first Hollywood movie since the 1958 western From Hell to Texas, also directed by Henry Hathaway, who had effectively blacklisted the actor after his Method approach slowed down production. Things came to a head one night when Hopper turned the set into his own personal Actor's Studio, trying every possible approach other than Hathaway's for eighty-five takes before bursting into tears of frustration and begging the director to give him his line readings one last time. When they were done, Hathaway threw an arm around Hopper and said, "Kid, you'll never work in this town again."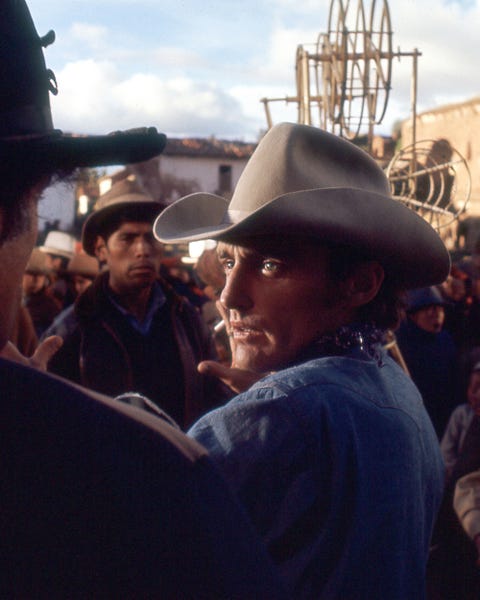 Courtesy of Areblos Films
For the next six years, Hopper didn't appear in a single Hollywood film and struggled to find work even in television. But in late 1964, Hathaway and Wayne decided that the 28-year-old actor—who was then married to Brooke Hayward, the scion of a prominent Hollywood family, and had a young daughter to support—had suffered enough.
On his best behavior throughout the Katie Elder shoot, Hopper became fast friends with 22-year old actor Michael Anderson Jr. "We were the only two people under 100," Anderson said. When the film wrapped, Hopper and Anderson attended a party thrown by a stuntman who'd rented a house in Durango. They spent the evening smoking pot and staring into an outdoor fireplace in relative silence, until Hopper turned to Anderson and said, "Hey man, I just had the best idea for a movie. It's about making movies and the effect it has on people, and what they do when a movie company leaves town."
Hopper teamed up with screenwriter Stewart Stern. Stern's personal papers—containing everything from his high school academic records, correspondence with Joan Crawford and Paul Newman, and scripts for pictures like Rebel Without a Cause, his best-known movie (and Hopper's film acting debut)—make up 22 boxes located in a special collections library at the University of Iowa. For years, only one of those boxes was unavailable for public view: Box 22, which contained the materials for The Last Movieand was placed under seal until after both Hopper and Stern were dead. Its contents tell a portion of the story of Stern's collaboration with Hopper, which began when Hopper returned to Los Angeles and settled in at Stern's house to write a treatment for what they were calling The Last Movie, or Boo Hoo in Tinseltown.
"Dennis would stride back and forth in the room and we'd spitball ideas," Stern said. "I sat at the typewriter and he'd walk behind me with his joint and he'd be raving, 'I bet you could really write if you had a little joint.' I said, 'Well I just won't do it, it makes me hallucinate.' So he said, 'There's something called a bong, you just inhale it over water.'"
As Hopper blew smoke down the snorkel of Stern's scuba mask, the pair wrote a 98-page outline for the story of a broken-down stuntman named Tex who shacks up with an indigenous girl and stays behind in a small Latin American town where a western has just wrapped. After watching the film company shoot their western, the natives begin to reenact its making as a religious ritual using the old sets, as well as cameras and other equipment they've made out of sticks. Tex, meanwhile, plans to seek his fortune by developing the town as a location for future productions. "He's Mr. Middle America," Hopper said. "He dreams of big cars, swimming pools, gorgeous girls. He's so innocent he doesn't realize he's living out a myth. Nailing himself to a cross of gold." The natives, however, do understand, and create a passion play of "greed and violence" using Tex as the doomed Christ figure in their deadly ceremony.
"The end," Hopper said, "is far out."
~~~
.
Showing this week: 'Blue Velvet
FRANK BOOTH IS A TWISTED MF … rŌbert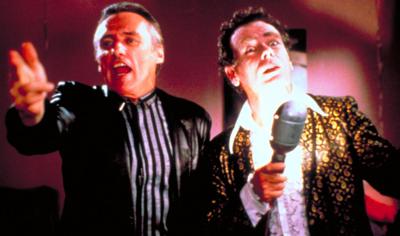 .
Rated R for for strong violent and disturbing content, some graphic nudity and pervasive language.
On Dennis Hopper's birthday Wednesday (May 17), the Rebel Film Festival, Taos Center for the Arts, and Hopper Reserve present a free screening of David Lynch's 1986 classic surreal mystery. Festivities begin at 6 p.m. with food vendors and Hopper's commemoration birthday cake celebration.
The film begins with a young college student named Jeffrey Beaumont (Kyle MacLachlan) who finds a severed ear near his home in the quiet town of Lumberton where he helps out at his father's hardware store. Jeffrey is puzzled when the cops take the ear but brush him off as they investigate.
Intrigued, especially after befriending the cop's teenage daughter, Sandy (Laura Dern), Jeffrey decides to find out more when Sandy, in an overheard conversation at home, learns that the ear has something to do with a nightclub singer named Dorothy Valens (Isabella Rossellini). From there the story takes a strange turn, very strange, especially after Jeffrey decides to sneak into Dorothy's apartment.
While Jeffrey hides in a closet, he witnesses a visit by Frank Booth (Dennis Hopper.). This performance hit new levels of depravity, even for Hopper who was already well known for pushing the envelope while depicting cinematic oddity. Be forewarned: this scene includes extremely difficult to watch sexual violence.
According to imdb.com, several of the actors who were considered for the role of Frank found the character too repulsive and intense. Hopper, by contrast, is reported to have exclaimed, "I've got to play Frank. Because I am Frank!"
Hopper and co-star Dean Stockwell, who both lived in Taos, offer performances that are truly memorable. Highly recommended. However, this film, while edgy in an artistic sense, is designed to confront psycho-sexual norms, while creating some of the most suspenseful visuals ever filmed.