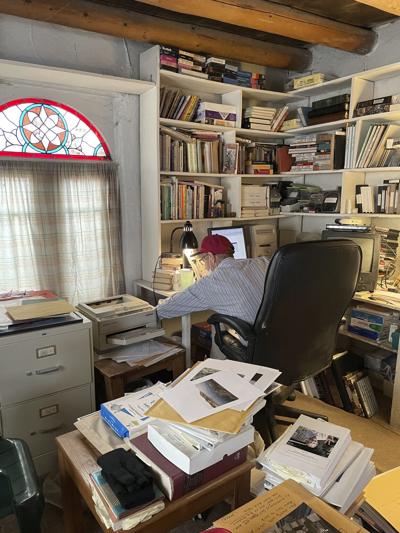 John Nichols is worried about his plumbing. His somewhat dilapidated Taos casita was built in the 1930s, and most of the pipes are made of clay.
"I live in constant fear that every time I flush the toilet, the entire sewage system of Taos will back up into my bathroom," he says through his blue surgical mask. "It's a real sketchy operation."
It's a warm fall afternoon in October 2020, and rotting apples drop gently from the trees in Nichols' yard. He sits in a green plastic garden chair and wears faded khakis that have seen better days and a black fleece jacket that hangs loosely on his narrow frame. A gray ski cap covers short hair that was once blond and is now somewhere between gray and no color at all.
With the help of hiking poles, Nichols walks into the house to grab a pillow for his chair. He talks over his shoulder as he moves from the yard to the kitchen.
Inside, Nichols uses space heaters to warm the three rooms of the gray adobe, which lacks a brown stucco finish. Every surface could use a good scrubbing. Books and manuscript boxes crowd the floor and crawl up the walls. Even the bathroom. Foot-high stacks of letters and other correspondence consume the kitchen table and counters. The walls are decorated with dozens of framed photos of family and friends.
His ancient computer sits on a cluttered desk in a corner of his study, next to a window with ornate stained-glass panes. It's where he writes every night, from about 10 p.m. until six in the morning.
Maybe this doesn't seem like the kind of place that one of Norteño literature's last-surviving elder statesmen would live. But all of this is by choice. Nichols' daughter, Tania Harris, 51, says that when she was little and they lived in a big house on Lower Ranchitos, she and her brother weren't allowed to dust the cobwebs from the corners.
"That was his kind of decoration," she says. "Until I got a stepmom, and she got it cleaned up."
Nichols has been single since the mid-1990s, when he got divorced for the third time. The mad-professor environment is Nichols at his most authentic. He decided as a teenager that he'd be a writer, no matter how close to the bone he'd have to live. "The joke," he says, "is that I actually did it."
Nichols has 23 books to his name, most of them "wildly unsuccessful." But he's never had a real job, except for a year in the early '90s when he taught at University of New Mexico to earn enough to put a down payment on his house. Now 81, he has congestive heart failure and impacted intestines, and he talks openly about getting ready to die.
But he still writes every night. During the pandemic, he completed a memoir about his writing life called I Got Mine, forthcoming from University of New Mexico Press in spring 2022. If Nichols is approaching his last winter on Earth, it seems he will go out writing — and railing about the things that are important to him.
"Just so you know," he says, "I can talk forever."
'A regular father'
In 2020, Nichols' primary concerns were his house, health, and archives, as well as the environment, economy, and (always) politics. He was sure that Trump would be re-elected. "We're doomed," he said with a wave of his long, elegant fingers, managing to sound lighthearted despite his palpable anxiety. "If we're thinking about correcting the problem, we're looking in the rearview mirror."
A year later, during a return visit from Pasatiempo, Nichols is relieved by the outcome of the election, but he was a Bernie Sanders fan and has nothing much to say about President Joe Biden. He's noticeably gaunter that he was last fall. But the cottonwoods are turning golden, there's a slight snap to the air, and he's happy to be alive.
"It's a miracle. I didn't expect to make it through last winter," he says with a grin, maskless now that he's vaccinated against COVID.
He's still preoccupied with his plumbing. He also talks about the three sheds on his property, which look slightly sturdier than his house. At the edges of the yard, they contain even more books, as well as his archives, which are kept in metal filing cabinets. "I walk back and forth between the sheds all night," he says. "I've saved every piece of paper I've gotten since I was 5 years old." He unlocks the sheds to show off collections of political books, file cabinets, and stacks and stacks of manuscript boxes. Thick cobwebs hang from the rafters, and small drifts of dead leaves occupy the corners.
"I've never trusted genius. I've never trusted inspiration. The only thing that's meaningful is work." — Author John Nichols
It's a habit he learned from his father and grandfather. He keeps photo albums, drafts of novels, reams of correspondence, and notes on meetings and interviews, including this one. He moved everything he had prior to 2013 to UNM's Center for Southwest Research and Special Collections almost a decade ago, and now he wants to get all the subsequent years down there, too. His daughter and her husband, Marco Harris, visit regularly to help him organize things. They live in Albuquerque, where she's a school nurse and he's principal of Highland High School. Harris grew up in Albuquerque with her mother, Ruby Nichols, and spent summers and holidays with her father. She says that hearing the sound of typewriter keys would probably still put her to sleep.
"He wrote all night. In the mornings, I would read until he got up, around noon. And then he was a regular father. He cooked breakfast, we did chores, and we went on tons of outdoor adventures."
Standing in his yard, neighbors' voices drift over his fence, their words indistinct on the breeze. Nichols calls his daughter and son-in-law, "like, the only sane people in the family. They have a lovely house that works, that they work on. They're problem solvers."
'I've never trusted genius'
Nichols started writing when he was a teenager and quickly developed his nighttime discipline. He moved to New York City in the early 1960s, after graduating from Hamilton College in New York where he was a hockey player. He's a lifelong sports fan, watching hockey and football on a little television that he tunes with rabbit ears.
His first book, The Sterile Cuckoo (1965), was a surprising success for a young writer, and his second, The Wizard of Loneliness (1966), got some decent reviews. But when he moved to Taos in 1969 and got political in his writing, no one wanted his next few novels.
"When my agent managed to sell The Milagro Beanfield War, it was supposed to be my breakout novel," he says, rolling his eyes. It came out in 1974 and publishers initially fought about reprint and paperback rights. Book of the Month Club expressed interest. And then: "It was a dismal failure. It got reviewed, but it disappeared."
The Milagro Beanfield War takes place in the Taos-like town of Milagro, New Mexico, and concerns water rights, land deals, politics, and the cultural tug-of-war between Hispanics and Anglos. Nichols had lived in Taos for just a few years when he wrote it. Some locals loved it, but not everyone thought he should air their dirty laundry in literature. Over time, it's become a cult classic, but it's never sold well and much of the early critical feedback was harsh.
"Nichols's attempt to make his love for an area and his social concern coincide with his often-celebrated sense of humor is doomed by his own always visible hand," Frederick Busch wrote in The New York Times. "He does not let the characters act or move but he steps in and says. The book is so full of his saying, that little else gets done."
This is standard criticism of Nichols' writing. He's verbose, folksy, and the self-deprecation he displays in person sometimes doesn't translate well on the page. But he doesn't care what critics think.
"I write what I want," he says, a stony expression passing across his face.
He sets his own standards, and he writes for himself. He revises his books for years, sometimes for decades. Many of his novels are autobiographical — about friendships and love — and imbued with his political ideas. While he hopes you enjoy them, he doesn't take it personally if you don't.
"I've never trusted genius. I've never trusted inspiration. The only thing that's meaningful is work. Write a draft and then tear it apart for 48 hours. Then write another draft of it over two years and tear it apart in a week. Then write another draft. Rewrite. Rewrite. Rewrite."
Nichols' soft voice is so animated with excitement for his process that it's easy to forget how sick he is.
'I never had to go home again'
Nichols was born in Berkeley, California, in 1940. His parents met a couple of years earlier at the American Museum of Natural History in New York City, where both were interning through family connections. Nichols' grandfather, John Treadwell Nichols, "who I'm named after, was the leading ichthyologist [at the museum], their prime fish guy."
His mother, Monique Robert, died of a heart infection called endocarditis when he was two years old. She was a French socialite who knew important people, his daughter says. "And his [father's] family was important. His six-times-great-grandfather signed the Declaration of Independence. He wrote about his parents' courtship and short marriage in Goodbye Monique, which is a really sweet book."
The Sterile Cuckoo was made into a movie in 1969, and its star, Liza Minelli, was nominated for an Oscar. By the time it came out, Nichols, his first wife, Ruby, and their young son, Luke, had left New York for New Mexico.
Nichols had been planning a life in the Land of Enchantment since he was 16, when he ran away during spring break at boarding school to fight fires in the Chiricahua Mountains of Arizona, which are close to the New Mexico border. He was supposed to attend a national student council event in Roswell but was made ineligible at the last minute. He grins at the memory.
"He's become an important voice in New Mexico literature, alongside Rudolfo Anaya, Stanley Crawford, and Tony Hillerman. He's a serious-minded guy, attuned to politics and social justice. Most of his work is informed by a love of land and the environment." — Stephen Hull, director of University of New Mexico Press
"I said, '[expletive] it. I'm going out West.'"
This was the start of travels that took Nichols to Central and South America in the 1960s, '70s, and '80s, where he was forever changed by seeing the devastating ecological and humanitarian impacts of American imperialism. But when he was a teenager, fighting fires "was so much fun. It was all with Chicano guys from Rodeo, New Mexico, or Mexican nationals that the government hired," he says. "On weekends, these guys would take me to bull fights, to whore houses. They took me to get drunk for the first time and have hot Mexican food. I loved everything about the culture and the adventure of being in New Mexico."
Growing up, Nichols' family spent time in California, Vermont, and Connecticut before landing in Virginia. He was shocked at the world he found there. "It was solid segregation. Apartheid. I went to all-white schools. I was going to Herndon High School when Brown [v. Board of Education] passed in May of 1954. And then when I was 14, after I got out of the eighth grade, my father sent me to [The Loomis Chaffee School, a boarding school in Connecticut], partially to separate me from my stepmother."
He pauses, resting with the implication that his father didn't want him attending an integrated school. But he was relieved to get away from his stepmother. "She had a terrible temper and was hugely jealous of my mother and my French roots. I have no memory of my mother, and I wasn't supposed to talk about her. So I went to boarding school for those four years, and my dad divorced my stepmother when I was 15, and I never had to go home again."
The Redford era
It's not unusual for tourists to make pilgrimages to Taos in the hopes of meeting Nichols. He had regular visitors, including longtime readers and old girlfriends. The phone doesn't ring as often as it used to, which Nichols shrugs off as a consequence of getting old. Most of his local friends have died, but he still has a small circle of confidants, including his closest friend, Rick Smith, owner of Brodsky Bookshop. The venerable Taos institution is mostly an online business now, so Nichols doesn't hang out at the store like he used to, but he and Smith still play music together every few weeks.
Harris says there were always people around, wanting to talk to her father. "The Milagro Beanfield Warwas published when I was 2 years old. Robert Redford came on the scene when I was 8 years old, and the movie premiered when I was 18 years old. So that's my childhood, during his most famous time. He still cringes about all that Milagro fanfare."
Nichols was brought in and out of the film project several times. He helped rewrite the screenplay, but he never made as much for his efforts as the Hollywood players who took most of the credit. The irony is that screenwriting is how Nichols supported his literary writing career.
"I rewrote a screenplay for Costa-Gavras that got nominated for four Academy Awards, and then people came calling," he says. (Missing, released in 1982, starred Jack Lemmon and Sissy Spacek.) "Screenwriting became an accidental side career. I never made much, just the guild minimum, but it was much more than I'd ever made before." He's been drawing a pension from the Writers Guild of America since he was 65. "Between that and social security, it's a living."
He goes into a funk remembering the Robert Redford era. When Redford made the movie version of The Milagro Beanfield War (1988) in and around Taos, the production disrupted life for locals and brought unwelcome media attention to the small town. Nichols still feels responsible for any lingering bad feelings.
One of his favorite anecdotes about that time is when he took a trip to Nicaragua during the Sandinista Revolution. "The point was to be able to talk about what the Reagan administration was doing down there," he says, a sardonic tone entering his voice. "Reporters would gather around, and I would talk for an hour on the situation in Central America. At the end, reporters would raise their hands and say, 'Tell us what's it like to work with Robert Redford on The Milagro Beanfield War.' I wanted to put a gun to my head."
Smith, 72, moved to Taos in the 1990s, after the Milagro hubbub. But memories are long, and he's heard the talk. "There are some people who still don't think he should have written The Milagro Beanfield Warbecause he's not from the culture. But I think it's hard for somebody within the culture to be truly honest. John doesn't take any prisoners. Everybody's on the firing line, and he'll take himself down, too."
"I've just always liked all kinds of cultures," Nichols says, under his apple trees. "I loved being in New York, living in Italian and Puerto Rican neighborhoods. Taos has Tewa people, Hispanic people, old Anglo settler people. I think if I wound up living in Montpelier, Vermont, where my stepmother was from, I would've written The Vermont Beanfield Wars. There'd be a bunch of French Canadians in it."
'A serious-minded guy'
Nichols' final book might be his new memoir, I Got Mine. "It chronicles the 60-year career of a writer with a distinctly American voice, in novels and movies," says Stephen Hull, director of University of New Mexico Press. It's Nichols' eighth book with the press. "He writes about how Milagro came to be and how it became a movie and what that meant for Northern New Mexico, which wasn't always good. Hollywood took over towns and didn't give enough work to the locals. John took that seriously, took the brunt of it.
"He's become an important voice in New Mexico literature, alongside Rudolfo Anaya, Stanley Crawford, and Tony Hillerman," Hull adds. "He's a serious-minded guy, attuned to politics and social justice. Most of his work is informed by a love of land and the environment."
In his yard, the sun is sinking, and Nichols is cold. "I get cold so easily now," he says, smiling down at his thin frame with a shake of his head, as if he's resigned to his body's betrayal. "I stopped hiking about 10 years ago. I had to. I have no balance. I've had a heart murmur since I was a kid. When I was 35, I had my first atrial fibrillation attacks. I've taken heart pills ever since. When I was 53, I got strep and staff endocarditis, which is usually fatal. It took a long time to recover, and then they did open-heart surgery. The procedure has given me an extra 26 years."
Harris and her husband are coming to Taos to help Nichols put his possessions in order, just as they do every fall. "We have been death-planning since 2016, and I get a new set of death instructions every year," she says. Nichols issues shed and storage unit keys, bank account numbers, and information on how to get a death certificate.
Harris describes her father as the most present, genuine, generous person she knows. "And the least materialistic. He's allergic to money. Whenever he gets some, he gives it away."
As for whether or not he's close to dying, she says, "Your guess is as good as mine. Sometimes I liken him to Amarante Córdova in The Milagro Beanfield War who is also threatening to die all the time and then outlives everybody. But [my father] is frail. His health is definitely degenerating. But I think he has anxiety he won't cop to. He gets overwhelmed. Like the plumbing. He's convinced it's on the brink of disaster at all times. He can't wrap his brain around the fact that we could just call a plumber and fix the whole thing."